Italica Shuriken is the name I gave to one elementary design pattern often met in the Roman mosaics of Spanish Andalucia.
The Roman ruins of Italica, with remarkable mosaics and an impressive amphitheater, are located 9 kilometres to the north of the city, just outside the town of Santiponce.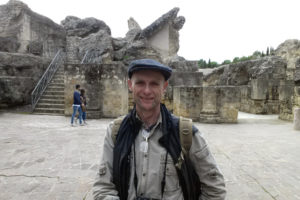 The first Roman colony outside Italy.



Publius Cornelius Scipio (Scipio the Africanus) founded Italica in 206 BC to settle his legionaries after the battle of Ilipa. This battle ended the  Second Punic War and Carthaginian power in Iberia.

Italica rose to high social and military status in the 1st and 2nd centuries AD, under emperors Trajan and Hadrian. The area was a major producer of grain and olive oil, and some families with private farms became very wealthy exporting to Rome. They built sumptuous villae. Most of them were decorated with magnificent mosaics.
The House of the Planetarium
When I visited Italica, Archaeologists were restoring the mosaics of the house of the Planetarium.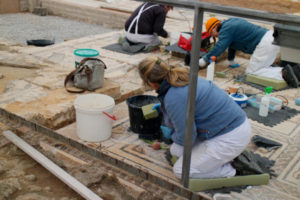 A mosaic consisting of a circle in which seven medallions represent the planetary gods naming the days of the Roman week gave its name to the house.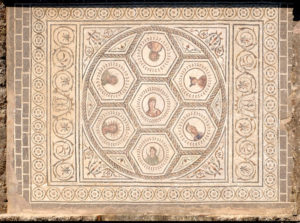 The Medusa Mosaic
Because the Planetarium s a very unique piece, it gave its name to the house. But other magnificent pieces were also decorating its floors.
In room adjacent to the Planetarium, a Medusa mosaic used a different palette of colors.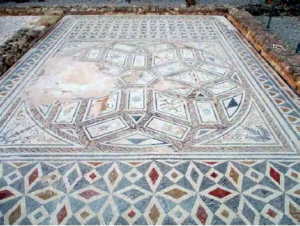 I was particularly interested in its borders.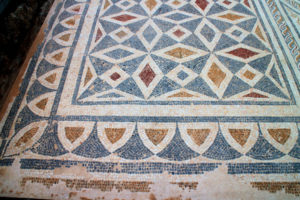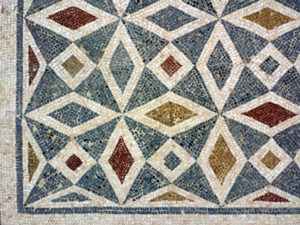 The same pattern has been observed in several places in Iberia – among them Ecija
Basic Bicolor pattern
The basic pattern of this design is quite simple. Actually it reminds me of some of the infamous throwing stars or shuriken used by Japanese Ninja ! :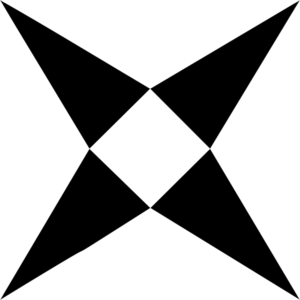 Here is a 3 x 3 design created from it :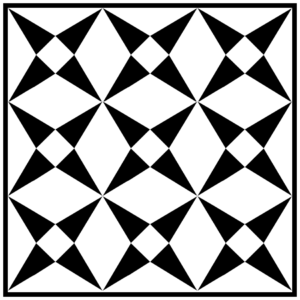 However, the pattern used in Italica is slightly more intricate :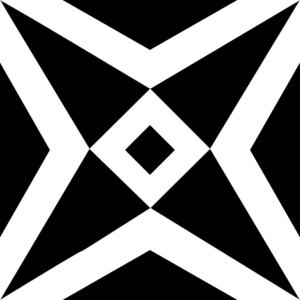 Here is a 3×3 combination of this element :
The mosaicist actually realized his mosaic using 4 different colors: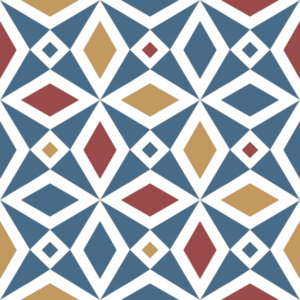 Feel free to use this pattern for your own projects.
I explain in my article Roman Tile-001 how you can create big designs by translation of those elementary patterns.
You can download and use these images for your own mosaics or graphic designs. I would appreciate your mentioning you got them from me, but you do not have to !
Have fun, Good Luck !