Mosaic Blues sells and promotes the work of mosaic artist Frederic Lecut.
Actual mosaics and mosaic related services : Custom Design, Seminars and Events. Frederic creates his mosaics in his 2 studios in France and Alabama and sells them worldwide.  He also offers services such as custom design, seminar and animation of community projects on a worldwide basis.
Inspired by the Art of the past Masters, I create mosaics in the respect of the techniques and materials they used. When I cut or lay my tesserae, I am one of them. Beyond time, I am in communion with them. And when I look at one of my completed pieces, I'd like to think that they would approve of it.

My job is to inspire people. My medium is mosaic art.

Frederic Lecut
The meaning of life is to find your gift. The purpose of life is to give it away.

Pablo Picasso
My Philosophy of Art
The foundation of my work is not so much to create a work of art than to use Art to make the world a better place. I value creativity more as an attitude than a know-how.
I believe artistic creation should proceed from 2 complementary currents:
An aesthetic and creative flow that drives the artist to actually create, allowing something bigger than him to be expressed through him.
A spiritual, religious or social call, through which the artist harnesses this creative flow to serve the community that supports him.
At this time of my life, my work is mostly inspired by the Arts of Classical Rome and French and Italian Renaissance.  Zen Buddhism, Confucian philosophy and the concept of "Do" omnipresent in Oriental cultures are the spiritual counterpart to these aesthetic influences.
I create to share my passions and bring people to realize they have in them what it takes to be creative. If you have the right attitude, you will acquire the know-how. After years of experimentation and work with great masters, I want to share what I learned to inspire people to give the best of themselves and to make the world a better place for all people, with no discrimination or preference of any kind.
In 2002 I met in Southern France a remarkable Artist. Jean Pierre Soalhat was creating mosaics from modern and antique materials, Roman marbles and roof tiles harvested in the fields of Provence. I was amazed bu the beauty of his creations, and fascinated by the connection to ancient Rome.
I came back to Alabama and created my first mosaic table
Modern days innovation
Because in a previous life I was an engineer, I invented in 2015 a new way to design and lay mosaics. Very easy to learn and implement, I named this technique Opus Pixellatum. I experimented with it for one full year and came to realize this technique gives the artist a great latitude to improvise and create many variations on a same model. Opus Pixellatum is a sort of sheetmusic for mosaic art. You can play the music exactly as it is transcribed on the document, or improvise from it. This is really fascinating.
Sharing
In 2017, I started to share the results of my experimentations with small groups of confirmed mosaicists interested in exploring this technique. I now also use this technique to design and create models for individuals or organizations private or public interested in building and installing actual mosaics on their own.
Welcome to Mosaicblues. As you journey through these pages, I hope the love and passion I am trying to share inspire you.
My main studio is located in Headland, Alabama, 4 hours South of Atlanta and 1 ½ hours from the Gulf of Mexico. This is where I complete most of my mosaics. I also have a small studio in France. When I bring mosaics to Europe I build them in Alabama on a fiberglass mesh and mount them in France on a rigid framed support.
Several international shipping companies operate out of the Headland area. I have shipped mosaics to America, Asia and Australia and have delivered and installed some myself in Europe.
It's also possible to be delivered in the entire world.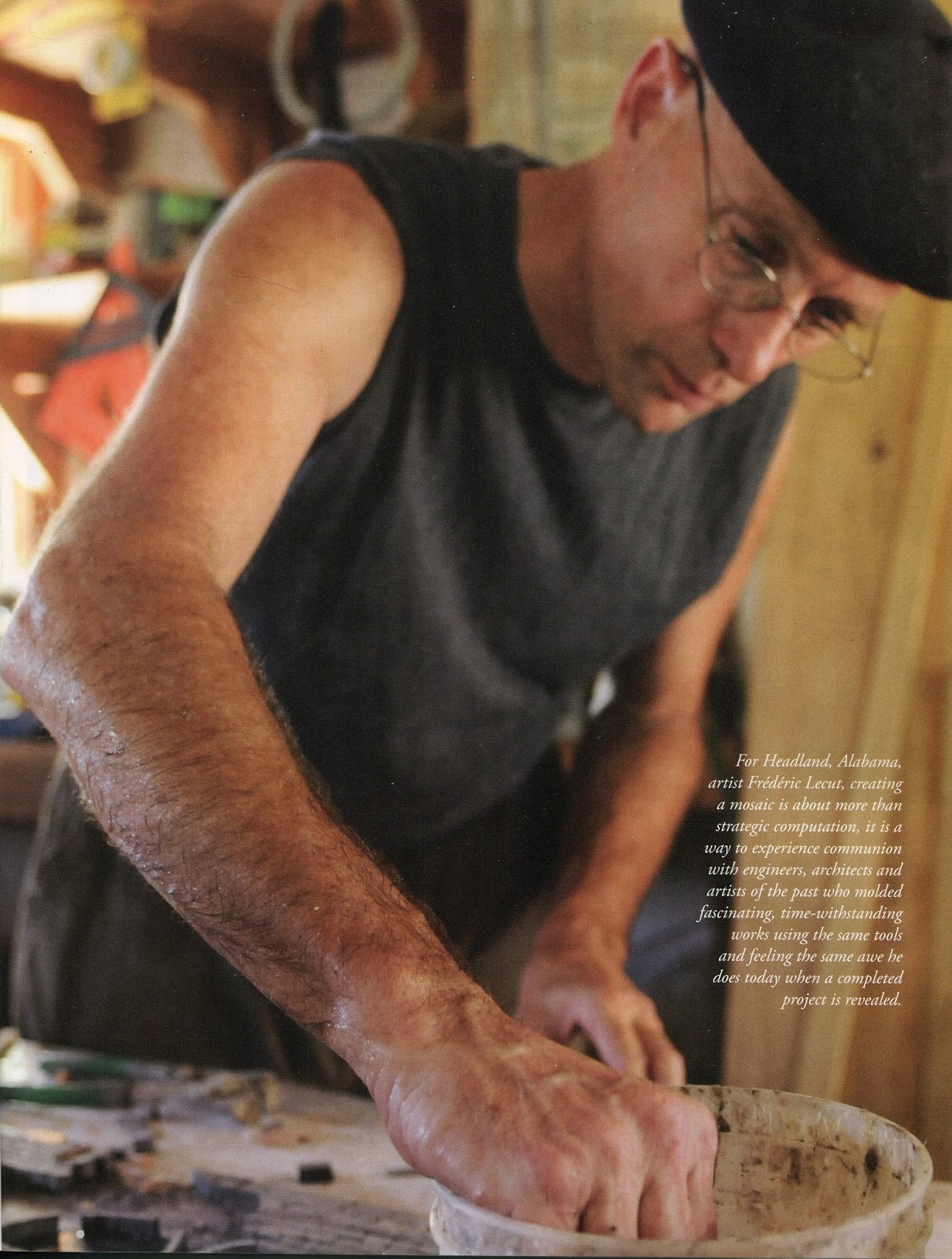 An ancient tradition of Mosaics
Magnificent mosaics adorned the floors, walls and ceilings of the glorious villas and public buildings of the Roman Empire. Across millenia these splendors tell us of the lives, loves and deaths of our ancestors.
Mosaics are a work of love and sweat. Each tessera – the little piece of stone, ceramic or glass which compose my mosaics – is painstakingly cut and laid on its support.
For the past 2500 years, the greatest mosaicists created their Chef d'oeuvre with infinite patience, accuracy and passion ! It takes much, much more time to create a mosaic than it would take to create a fresco of similar design.
Inspired by their Art, I create in the respect of the techniques and materials they used. When I cut or lay my work, I become one of them. Beyond time, I am in communion with them. And when I look at one of my completed pieces, I'd like to think they would approve of it.