My first visit to Roman mosaics in Beaujolais
A long time ago, I was related to a brilliant archaeologist from Chalon sur Saone, who knew everything you've always wanted to know about the prehistory of the Rhone and Saone valleys (among other things). Once upon a time, this great man had mentioned an unusual boat prows mosaic featuring the prows and profiles of Roman river going ships.
Back then I had other worries than mosaics, and I forgot about it. Until many years later, when I found blurred pictures of it, I remembered what he'd told me.  Since them I had been dreaming to see it for myself ! 
At the gates of Beaujolais, 30 km North of Lyon, the antic sits the charming town of Anse. which probably because of its proximity to both the Saône and Azergue rivers, has been occupied by humans for a very long time,

During the Pax Romana, (a period lasting from the 1st to the early 4th century), Anse was an important stopover on the Via Agrippa, a Roman road leading from Lugdunum (Lyon) to Matisco (Mâcon) all the way to Bolonia (Boulogne sur Mer on the English channel). It is mentioned in the Antonine itinerary in the 3rd century under the name of Asa Paulini.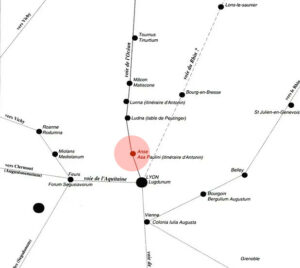 Several Roman villae were discovered in the area of Anse, many of them with beautiful mosaics. While many of them were lost, the Boat Prows mosaic of the Grange du Bief Villa escaped their pitiful destiny. It is displayed at the Museum of Anse and I had been longing to see it for a long time. So last June, on my way back from Provence, I stopped in Anse, full of hope and expectation ! 
And there, the Museum was closed… 😭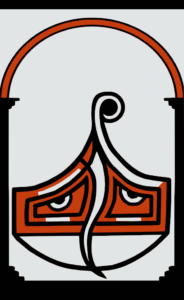 Bad luck…
The museum is actually hosted inside an impressive medieval tower. I entered the tower,  nobody ! I saw some stone stairs and started to climb them. I heard some voices, hollered at them and got instructed to keep climbing…  Two stories later I met two ladies talking to each other. I asked the bossy one where the museum was and she told me it was there, but closed !
Because the City of Anse is not big enough to afford a full time employee to keep the museum open, it is advisable to call the city hall ahead to request someone to open the doors for you. 
The same thing had happened to me in Lectoure
So I told her i was disappointed but i would come back next year to see them, and then I would call ahead of time.
Good luck !
That's when she told me she actually had the keys and would open the doors for me ! 😁 I wanted to kiss this lady.  But I thought better…
I got the whole room by myself !
Speak of a child in a candy store !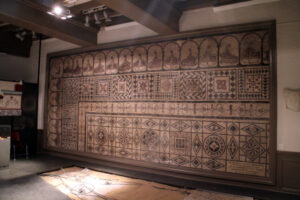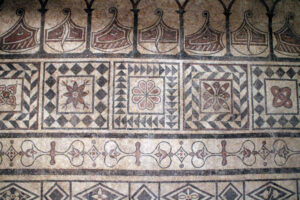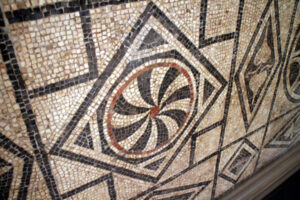 A Travel guide to Roman mosaics in Gaul
I wrote a full article about the mosaics of the area and uploaded to Academia.edu, and it is going to be a chapter in my Travel guide to the Roman mosaics of Gaul.
You can read and download it here :
It treats of the history of the Anse area during the Roman times, of the Mosaics found there, with many pictures I took and many drawings I made of the actual mosaics.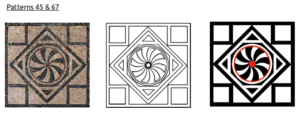 and of other pleasant things you can do around this region (many other mosaics to see) also well know for its gastronomy and wines. I'm sure you realized that wherever the Romans went, wine is produced…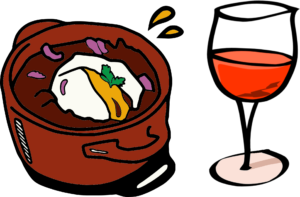 Practical information :
Museum of Anse : Chateau des Tours
City Hall : (Mairie de Anse) 
A Travel guide to the Roman mosaics of Gaul
The above linked-to document is the 2nd chapter of my Travel guide to the Roman mosaics of Gaul. The previous one treats of the Roman mosaics at the museum of Langres