Muses mosaics were appreciated by Roman patricians
In Greek mythology the Muses were the goddesses of the inspiration of literature, science, and arts. They were considered the source of the knowledge embodied in the poetry, song-lyrics, and myths that were related orally for centuries in these ancient cultures. Later adopted by the Romans as a part of their pantheon, they were often represented in paintings, sculptures and mosaics.
The Muses, personifications of knowledge and the arts, especially literature, dance and music, were the nine daughters of
Zeus
and
Mnemosyne
(memory personified). Although the account and description made by Hesiod in his
Theogony
was generally followed by the writers of antiquity, it was not until Roman times that specific functions were assigned to them.  Even then there were some variations in both their names and attributes.
Muse

Domain

Attribute

Calliope
Epic Poetry
Writing tablet, Stylus, Lyre
Clio
History
Scrolls, Books, Cornet, Laurel wreath
Euterpe
Music, Song, Ellegiac Poetry
Aulos (Double flute), panpipes, laurel wreath.
Aerato
Lyric Poetry
Cithara (an ancient Greek musical instrument
in the lyre family)
Melpomene
Tragedy
Tragic mask, Sword (or any kind of blade), Club, Kothornos (high soles sandals)
Polyhymnia
Hymns
Veil, Grapes (referring to her as an agricultural
goddess)
Terpsichore
Dance
Lyre, Plectrum
Thalia
Comedy
Comic mask, Shepherd's crook, Ivy wreath
Urania
Astronomy
Globe and compass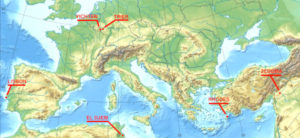 Eastern Empire
Turkey
A gorgeous and brightly colored piece was discovered in Zeugma, Turkey in 2014. The muses are arranged in a circle around Calliope. They are identified by their names written in Greek letters inside each individual medallions. This mosaic can be seen, with many other splendid pieces, at the Zeugma mosaic museum. Built in glass tesserae in the 2nd century BC, this is the oldest of the mosaics listed here.
Western Empire
Notes :
About visiting museums. I have learned the hard way that it is always a good idea to double-check ahead of your visit their days of openings. Check their websites…
All French museums for example are supposed to be closed on Tuesdays. Except when they are not… The Musee Gallo-Romain of St Romain en Gal for example is closed on Mondays and I am still to visit it. Also, consider national holidays. When I arrived from Trier to Luxembourg from 2 years ago I was greeted by huge gun salute (quite impressive I must say), but could only see the gates of the museum, because June 23 was the official birthday of the Great Duke.  And after my visit of Conimbriga 4 years ago when I was in Lisbon on January 2 and 3 no museum were opened. (Wine, food and people were nevertheless splendid)… Call, check the websites…
An etymological note : The words "Muse", "Mosaic" and "Music" share the same etymology. Medieval Latin "musaicum" literally meant "of the muses" and was used to designate what we later called "mosaic".