From the Eastern Church of Theodorias
The mosaic drawing of this week 18 (May 2 to May 8) is my drawing of a mosaic showing Deer (or a stag) stomping and biting a snake.. The original mosaic was a square medallion from the floor mosaic of the Eastern Church of the ancient town of Theodorias, a roman town from the Cyrenaica province of North Africa, now named Qasr el Libya.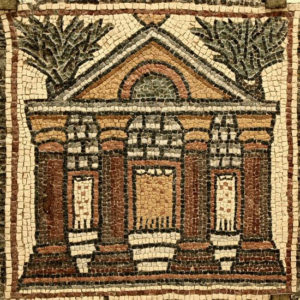 Many of the mosaics decorating this church represented scenes of animals closely related to Egypt. This is the reason why archaeologists believe the mosaicists that laid them were either of Egyptian origins or had trained there, probably in Alexandria
The lively and colourful mosaics of Qasr Libya are considered some of the finest examples of Byzantine period art ever discovered. Dating from around 540 AD during the period of Emperor Justinian, they represent a wide range of animals, Christian and pagan symbols, buildings and mythological creatures.
These mosaics are displayed in the Museum of Qasr el Libya
You can see detailed pictures of the 50 square mosaics here.
A catalog of mosaic drawings
Little by little, I am putting together a library of mosaic drawings or templates, for the past few month I have mostly been working on those Libyan creatures and geometric designs from the great Lugdunum geometric mosaic.
I believe ancient mosaicists and painters had such catalogs which they used to
Create their own mosaics and paintings
Allow their patrons to chose the designs they wanted on the walls and floors of their villas.
I intend to use my drawings for the same purposes.
A deer stomping a snake
This week I bring you the 11th square of the Qasr Libya mosaic :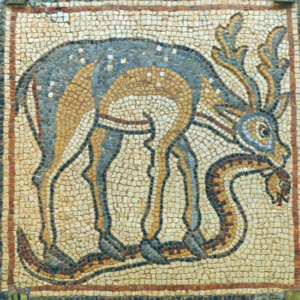 On this scene, the mosaicist used many different hues of glass and stone to feature this colorful deer ! When building palaces with almost unlimited funds, mosaicists could being stones and glasses from all over the empire. But most of the time they would source their materials in a 100 km radius around their shop.
I generally build 2 versions of my models : a black and white which can be colored at will and an other one with colors close to the original.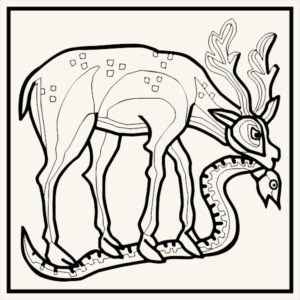 I built those drawings using the 2 pieces of software GIMP and Inkscape which you can freely download and use.
You are welcome to use my drawings for your own creations
I can draw models of gazelles, fishes, lotus flowers and geometric shapes because some guys spend time to develop and maintain programs and chose to let them be free to download and use. I admire that. Which is why I share my drawings. Please feel free to copy and use them for any graphic project, mosaic, painting, quilting… of yours

If you do so, it would be nice to mention their provenance, but you do not have to. I would also really enjoy to know how you used them !
If you need higher resolution of them, please contact me
Stay tuned for the next 47 patterns… And many more ! This is the 3rd model I publish of the Qasr el Libya mosaic. I have drawn the 50 regular mosaic squares that composed the floor of the church and am still working on the center piece.
You can check on previous mosaic models I published this year