How to make your own Ukrainian flag mosaic
Like most of you I am extremely saddened and appalled by the war putin is waging agains Ukraine, at the massacre of civilians, children, women… I sent some money to the Red Cross. But beside that, what can an artist do ? Creating art when people are being bombed seems a ludicrous activity. But then Picasso's famous Guernica (which had been banned from Spain by Franco's fascists) is regarded by many art critics as the most moving and powerful anti-war painting in history.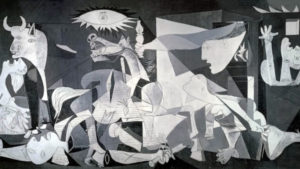 When I heard about the invasion, I decided to make small Ukrainian flag mosaics and install them in various places. These mosaics are really not difficult to build, so I decided to create short videos about the process of building them (in a next article I'll show how to install them.)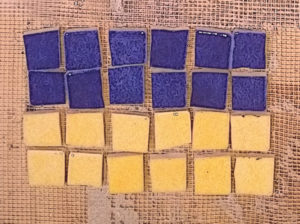 Build your own Ukrainian flag mosaic – video tuto :

Material and tools you'll need :
a small piece (4 x 6 inch – 10 x 15 cm) of fiberglass mesh (mosquito net)
Water soluble glue (elmer glue or equivalent)
3 small blue ceramic tiles (about 1 inch – 25 mm square)
3 small yellow ceramic tiles. (about 1 inch – 25 mm square)
1 tile nipper or wheeled cutter
1 pair of tweezers
Note : on the video I use a tile wheeled nipper to cut each tiles in 4 small tesserae, then I use the tweezers to dip them in the glue and lay them on the fiberglass mesh. I believe the mosaic looks better this way with smaller tesserae. in that case, the mosaic is made of 12 small blue tesserae and 12 small yellow tesserae.
But if you do not own the tools, no need to purchase them. You very well can use the full tiles and glue them on the mesh without cutting them . In that case your mosaic is made of a row of 3 blue tiles above a row of 3 yellow ones.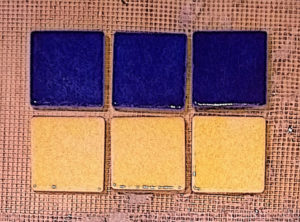 The cost of material you need to build one Ukrainian flag mosaic is well below 5 US $. It takes less than 15 minutes to build one once you have gathered the materials.
Actually, while you are at it, you might as well build several of them and share them with your friends.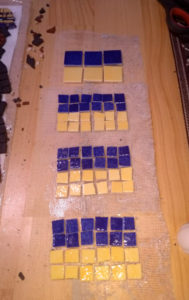 Working now on a video to explain how to install those flags. I will write about it very soon.
if you build some of those flags, please send me pics !
Have a beautiful day, and remember