From the Eastern Church of Theodorias
The mosaic model of this week 10  (March 7 to March 13) is a drawing of an pet antelope mosaic. The original mosaic was a square medallion from the floor mosaic of the Eastern Church of the ancient town of Theodorias, a roman town from the Cyrenaica province of North Africa, now named Qasr el Libya.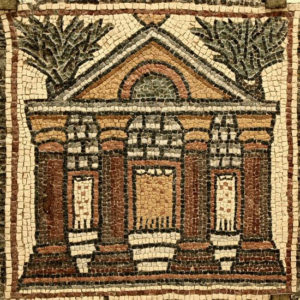 The lively and colourful mosaics of Qasr Libya are considered some of the finest examples of Byzantine period art ever discovered. Dating from around 540 AD during the period of Emperor Justinian, they represent a wide range of animals, buildings and mythological creatures.
They are displayed in the Museum of Qasr el Libya
You can see detailed pictures of the 50 square mosaics here.
A Mosaic model catalog
I will add my drawings of these figurative mosaics to my mosaic models library just like I do for the ones from the great Lugdunum geometric mosaic.
Little by little I am building a catalog like the ones I believe antic mosaicists and painters had available for their patrons to chose patterns and themes to decorate floors and walls of their villas and palaces. I will actually use them as models for my own mosaics.
If all goes to plan, I will be publishing one modaic model per week for the next few months or years.
A pet Antelope and Pomegranates tree
This week I bring you the 1st square of the Qasr Libya mosaic :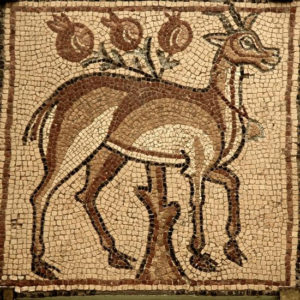 Many domesticated and wild animals were represented on this mosaic. Here we have what I believe a Dorcas Gazelle, with a small bell attached with a ribbon to her neck. She may have been the favourite pet of a young local girl.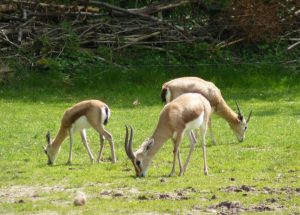 The pomegranate tree standing behind her, symbol of the resurrection of Persephone in Greek mythology was later adopted by the Christian church as a symbol of Christ's resurrection.
The mosaics of Theodorias were built in a wider range of colors that the usual quaternity of White, Black, Red and Yellow colors.
Here many hues of browns, ochres and reds were available to the 5th century African mosaicists who worked on the Church floor.
I generally build 2 versions of my models : a black and white, and a colored one.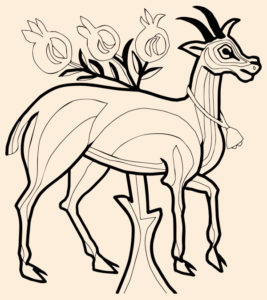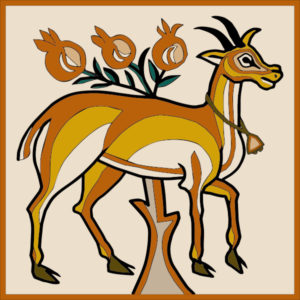 I built those drawings using the 2 pieces of software GIMP and Inkscape which you can freely download and use.
You are welcome to use my drawings for your own creations
I have been able to draw a model of this antelope mosaic because some guys spend time to develop and maintain programs that are free to download and use. These people work hard at this because they love to share, I admire that. And I will share my drawings with you. You are free to copy and use them for any graphic project, mosaic, painting, quilting…
If you do so, it would be nice to mention their provenance, but you do not have to. I would also really enjoy to know how you used them !
If you need higher resolution of them, please contact me
Stay tuned for the next 49 patterns… And many more ! This is the 1st model I publish of the Qasr el Libya mosaic. There are 50 regular squares, and a few other extra creatures featured on the floor of the church.
You can check on previous geometric mosaic models here :