I'm finally back in France. My container with all my mosaics, tools and tesserae is still stuck in Alabama for lack of truck drivers to take it to the boat. But let's not despair, the Muse of mosaic still inspires me. I have had 2 years to design and draw,  and I am now planning and gathering all I need to build my first mosaic in 2 years.
Europa and the Bull
My first European made mosaic will be a reproduction of the Rapt of Europa by Zeus, a classical scene of Greek mythology beloved of antic painters and mosaicists. I blogged about  Europa's story a while ago.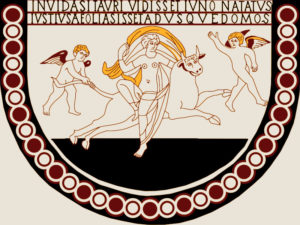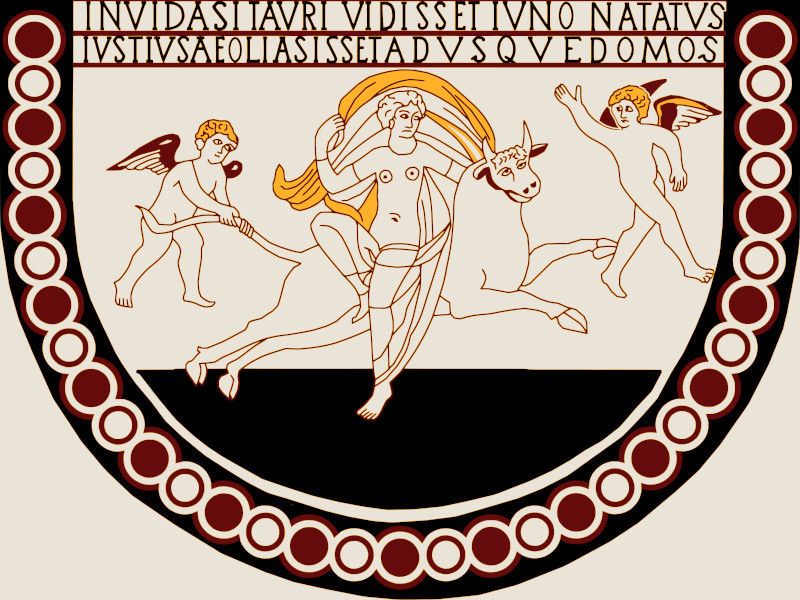 I chose to work from the late roman mosaic of Lullingstone, which I introduced in a previous post.
After gathering most of the equipment I needed to start working,  I went to Paris to purchase ceramic tiles and visit the great mosaic gallery of the Louvre Museum.
Paris 18th district still has the feel of a small town
There is much more to Paris than the Champs Elysees and the Quartier Latin. Some parts of her still feel like a small towns or villages. These quarters are where real people live and work : plumbers, bakers, cobblers, electricians, masons, tile layers… Here they also find the materials they need to carry their trades out. Pipes, fittings, flour, leather, wires and of course floor and mosaic tiles…
Out of the several online and brick and mortar outlets you can purchase tiles from in France, my preferred place is Championnet Carrelage, a place located at the end of a small paved cul de sac : the Villa Championnet in Paris 18th district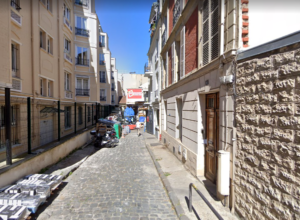 You can either drive there, which I do not recommend as it is difficult to find a place to park, or take the subway to the Guy Moquet station and walk to the store.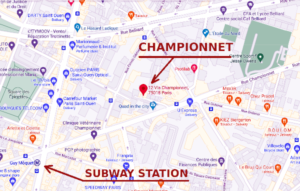 The Store
The entrance to the store is generally quite busy with people loading tiles in and out of delivery trucks. Championnet supply regular ceramic tiles to many Parisian  contractors. Once you get in the mosaic store is to your left. You'll be walking in between brightly colored faience tiles and glass rods to your left and exotic materials to your right (micro mosaic, gold smalti, millefiori…), and you enter mosaicist's heaven…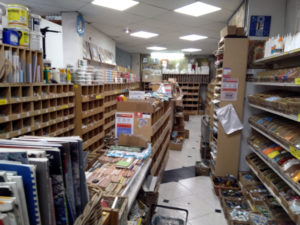 Tons of stuff you can chose from, colors you did not know could be found…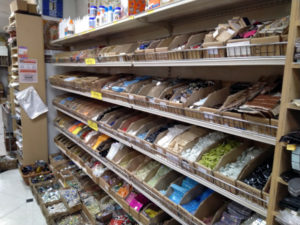 Irridescent tiles so nice you'll buy some even if you don't know what you'll do with them…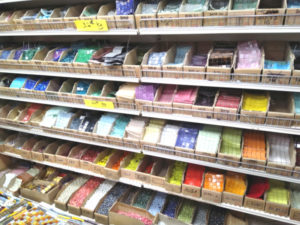 Glasses, Smalti, emaux , most of the materials are sold by the weight, small plastic bags are available to make your choice.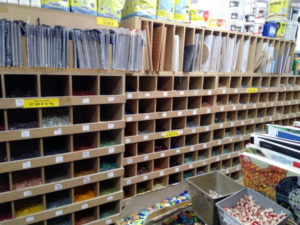 I had to be good. It's not like it has been for the past 15 years when I would come to Pris once or twice a year and buy all I could carry back to the US with me because I might not be able to come back for a year. I now live 2 hours from downtown Paris, I can catch a train and the subway and be in Ali Baba's cave in less than 3 hours ! So I only purchased what I needed for Europa. Well, to be honest, I purchased a few more colors, but I still could have bought more, and I didn't ! Pat on the back.
As I had gone there with my dearest Mathilde and Rose (my daughter and granddaughter), we had driven and parked our car in the Vauvenargues Street, a little further away than I usually do. This is how we discovered two local gems I'd like to share with you: two places you would likely enjoy if you decide one day to purchase mosaic tiles in Paris.
Mosaic sightseeing
In the neighborhood, you may enjoy a visit to the Vauvenargues elementary school and its lovely Art Deco mosaics…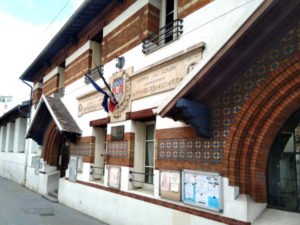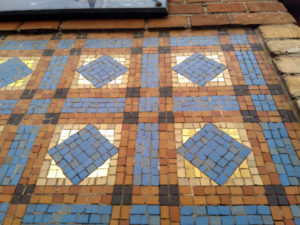 Gastronomy
And if you love Japanese Cuisine, I recommend you keep walking down the rue Vauvenargues down from the school, until you find the tiny and lovely EDO Japanese restaurant. It is no more than a 10 minutes walk from Championnet and well worth the trip. There are only a few tables, but the food is excellent and the lady waiting on you is just charming.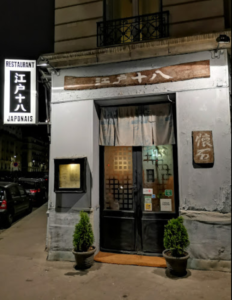 You can walk from Championnet to Edo Japanese Restaurant in less than 10 minutes. Down the Rue Vauvenargues, you will see the elementary school on your right. You will find the restaurant is just after a red light at the intersection of the Rue Leibniz with the Rue Vauvenargues.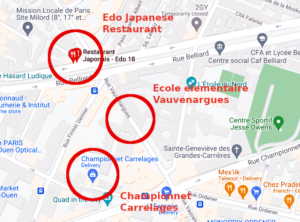 After your meal, you could walk back up to the Number 112 of the Rue Championnet and enjoy a cup of expresso at the Bistrot la Renaissance where Brad Pits was recognized by the Germans hunting him in Inglorious Basterds. This authentic Parisian bistro features its original decor with its large counter, Art Deco stained glass windows and genuine floor mosaics.