I received this week-end a lovely phone call from Leda Kendig. Leda lives in Ohio and received as a Christmas gift my Christos mosaic, which I made in  the style of Greek and Russian Orthodox icons. Christos brings lots of joy in her home. I believe Art should be part of every day's life, for it has the potential to bring warmth, solace and joy in times of sorrow, or just when nothing seems interesting.
When my art helps people feel better about themselves and the rest of the world, I have achieved something of value, and this is important to me. I am very thankful when I receive words that this is happening.
Here is Leda's Testimonial :
I was gifted with Frederic's extraordinary and most Holy rendition of our Lord and Savior by my precious son and daughter-in-law, Arthur and Mary Kathryn Kendig who own The Peanut Gallerie in Dothan Alabama.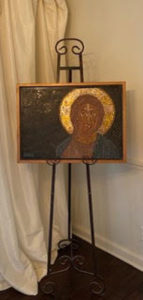 The detail of the mosaic to format the fruition of Jesus' image is incredible in person to behold. Every day when I pass by Him, I feel His upmost presence. Frederick's creation of the illumination of the cumulation of Jesus' spririt, is a Holy Presence in my home that ministers to me daily. At night when the lights are off, the golden Halo of Jesus' head glows all by it's self.
I am grateful that Frederic is a "link in a long chain of countless generations of masters."
Frederic's anointed artwork finds me in daily awe at the sight of his sacred mosaic that has Christos real in my home every day and night. I cannot pass my Him without saying a prayer for someone, sending thanks, or just standing in His presence. Every piece of tiny glass tile Frederic masterfully put in place forms a labyrinth of gratitude and reverence. Perfection.
Frederic, may God continue to Bless your mind, heart, and hands as you are faithful to use the gifts and talents that He gifted you with when He placed you on earth.
Leda Kendig, Ohio.