Reproduction of a fish featured on the great mosaic of Oceanos at the Archeological museum of St Romain en Gal in France
Medium: Stone on Panel
Frame : Painted steel
Size: 34 cm x 16 cm
Price: 250.00 Euro
Availability: Available
A reproduction of a fish from the great Oceanos mosaic displayed at the entrance of the Archeological museum of Saint Romain en Gal. Isere, France. (see the orgonal fish below.) The whole mosaic features other fishes and shellfishes, splendidly executed in black and white.
Some views of the work in process in my studio in Saint Valery sur Somme.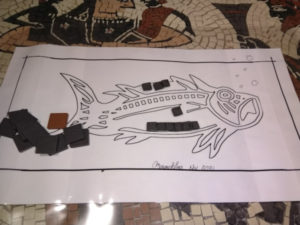 The model is a mirror image of the final mosaic, as I work generally in reverse method : I lay the tesserae upside down. at the end, I cover them with their support and flip the whole piece. And this is when I see the final mosaic for the first time ! 😀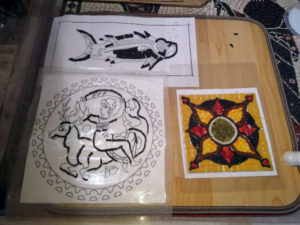 The 2 other mosaics are Catacomb Venus (From the catacombs in Rome) , and the Genainville Rosace seen at the Archeological Museum of the Val d'Oise, soon to be published here.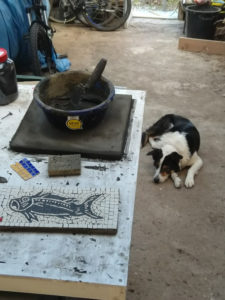 with the help of my faithful Itto, extraordinary Border Collie !