Catacomb Venus
Catacomb Venus is inspired by a fragment of a drinking cup that had been incorporated in mortar to mark a spot in Roman catacomb.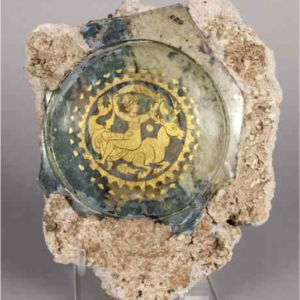 The piece can be seen at the Vatican Museum. the original is 12.7 cm in diameter. It used to be the bottom of a drinking cup. Dated from the 4th century AD, It is made of gilded glass : Gold leaf and possibly some light blue paint sandwiched between two layers of transparent glass.
It represents a Nereid riding a deer-headed hippocampus, under which is a fish; its border is of a simple but elegant design.
I found the scene and colors lovely ❤️ and wanted to see if I could reproduce this effect in mosaics. 😉
As usual, I built this mosaic upside down in Reverse Method.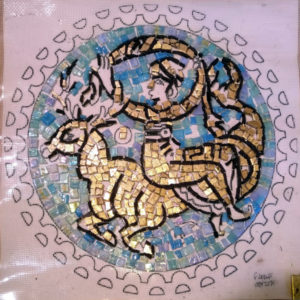 The final piece is 31 x 31 cm. I have used a glass background to get the blue glass and gold stand out.
Here displayed against a stone wall in my studio, it is a lovely piece ❤️ ❤️ ❤️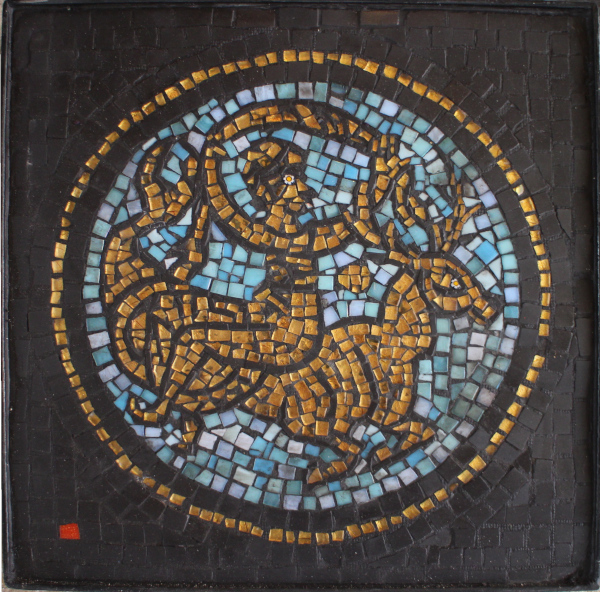 Medium: Glass and Ceramic on Panel
Frame : painted Steel
Size: 31 x 31 cm
Price: 500 Euros
Availability: Available