After quite some troubles, I have finally managed to get my stuff ready for moving back to Europe
How do you move a mosaic studio ? You pack all you can into a shipping container and ship it !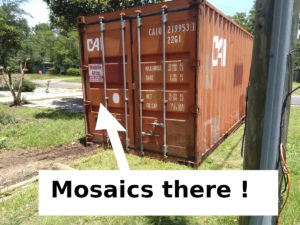 Yeah, sure… There is no easy way. Mosaics weigh tons… I had to literally abandon tons of marbles, granites, slates, some of them gorgeous… I have kept the fancy materials : Glasses, smalti, high end ceramics, mirrors… Some of this stuff I had bought in Italy, France or Morocco, they'll be crossing the Atlantic for the second time ! Some had come from Turkey, China, Mexico… Our world really is global !
Then of course there are the references books, books also weigh tons…
I packed the tiles in individual crates, small crates so i could lift them… I packed by colors. Those crates I stacked at the bottom end of the container.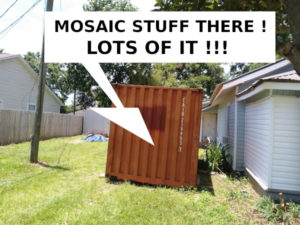 Then I packed the rest of my stuff. Lots of books, sports equipment, some household products, tools and clothing.
Finally the completed pieces I am taking back with me.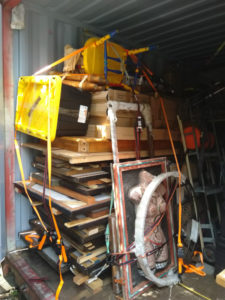 I stacked at the entrance of the container, separated by small pieces of wood. Mosaics weigh tons, they are also very sturdy and can take quite some punishment. But you don't want them to rub on top of each other and dull the colors of the glasses one.
I made sure to have everything strongly secured to anchor points inside the container.
Finally, yesterday, after about one year of delay – thank you Mr Covid – I saw my container lifted on a truck.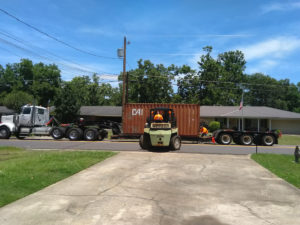 It is not there yest, it still has to be lifted on an other truck which will take it to a ship then across the Atlantic to Le Havre… But I must say, seeing it on its way has been a tremendous relief to me ! I just wanted to share this with you ! If all goes well, the container should be delivered in France within 2 month. It will take me a while to unpack it. But I now can start thinking about being able to build actual mosaics…
For the past year I have created models. I sought inspiration in ancient art, studied classical Greek and Roman mosaics, which led me to Greek vases. I realized how designs had been passed to us through millenia. That some of the geometric patterns used by medieval mosaicists had been used for many centuries by the Roman, Greek, Hittites, Sumerians… all the way to some neolithic potters. I have put together the beginning of a Library of antic patterns usable in mosaics or other graphic arts. This includes geometric as well as figurative designs.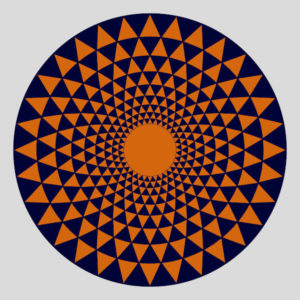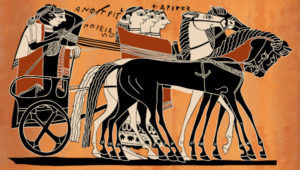 I hope I can open a small studio in Northern France this fall. I'll be looking for something more substantial to open within the next 18 month, possibly with other craftsmen. I really need to build some new mosaics before the end of this year ! I have been missing it so much !