Is there such a thing as
Too many irons on the fire ?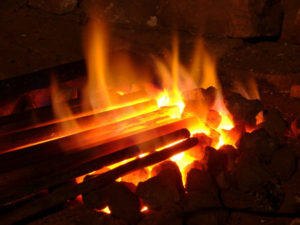 I always have many projects going on… It would drive some people nuts. but when it comes to mosaics, it is almost a necessity.
When you work with glues and mortars it is very important to give them time to set, so I often work on several pieces at the same time. I lay a few tiles on one of them and go lay more on an other one or two while the glue sets. In winter, the glue takes much more time to set. Here in Alabama, beginning in March, it usually takes 2 hours for the water soluble glue to stick. Because I work in reverse method most of the time, I use this type of glue. So I work 30 to 45 minutes on a piece, then switch to an other, and an  other, 3 pieces is a good number to work with.
But right now, I have way more than that !
Five big pieces…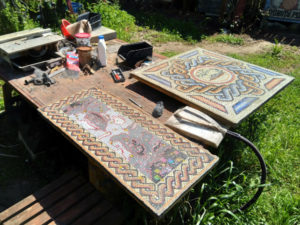 I started to work on those before Christmas. Severa is the seventh in my series of Carole's Eyes, it needs to be cleaned, grouted, and then, I will experiment with something new with her.
Lepus Vexus started last year as a joke, I saw this Roman Corinium mosaic and photoshopped a bugs bunny in the middle of it.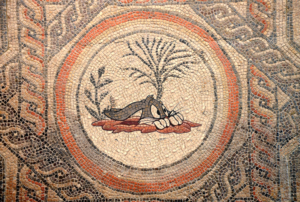 People loved it, so I decided to make a real one… I still have to clean and grout it.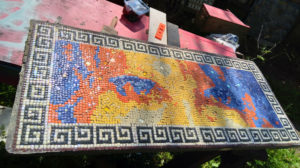 Carola sexta, well as it happens, she is the 6th of my Carole's series. She's waiting to be grouted, and I also have some big plans for her !  Surprise !
Thirsty Pig is also waiting to be cleaned and grouted. It is a sign for my favourite beer joint ! I started this one this year. It is made of glass and some beautiful blue ceramics I had had for a long time in a corner of the shop !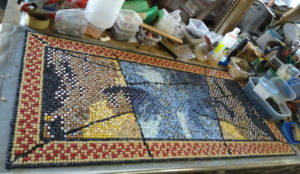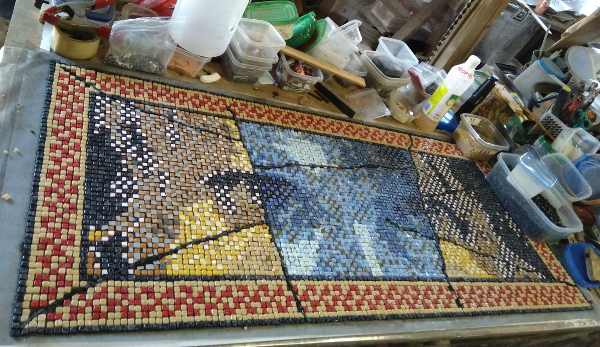 Livia is the eighth and last  of my Carole's Series, I have really enjoyed working on this one. Experimented with many variations of Opus Pixellatum, I have tried to use lots of colored mirror. Actually I completed the laying this morning, and will have to mount her before I can flip her, hopefully I should be able to see her within 2 weeks !
And many, many more smaller pieces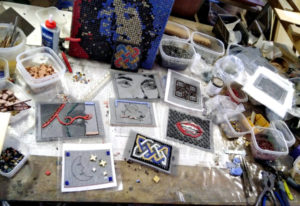 From top to bottom and Left to right :
Mick Jagger
Solomon knot Minaudierre side
Woman face -02
Roman geometric panel – minaudiere side
Woman face – 01 – Minaudiere side
Flying Pig Minaudiere # 2
Red Lips Minaudiere
Entrelacs
Starry Night Minaudiere # 2
Most of those pieces are side panels for my minaudiere collection. I have completed 3 of them so far, and am pretty advanced on 2 more…
See you in April !