Majesty of Nature
Flying pigs migrations are among nature's most inspiring events.
As is true for many species of pigs, especially those in mountainous regions, flying pigs migrate into areas of higher altitude in the spring, following the retreating snows, and the opposite direction in the fall. During the winter, they favor wooded areas and sheltered valleys for protection from the wind and availability of tree bark to eat and agave plants to brew tequila.
The Central American ecosystem herd numbers over 200,000 individuals and during the spring and fall, they take part in the longest flying pig migration in the continental Northern America.

A resting place in Alabama
In the spring, flying pigs and hummingbirds who had wintered in the international flying pig refuge in the mountains south of Panama migrates in long caravans toward the arctic circle. They stop on their way in the national flying pic refuge in Alabama.
Conservationists there ensure the flock is well fed before their flight toward Canada.
In Lower Alabama, the caravans usually split. Some of the pigs fly Northwest toward the West coast, some follow the Mississippi river toward the great lakes and others follow the East coast toward New York.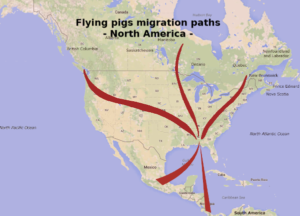 A few weeks ago a small flock of pigs spent the night in the field behind my mosaic studio. As I arrived there to feed my chickens, I saw them quietly resting in grass.
Unstartled, the majestuous creatures observed me for a while before finally deciding to take off. Their departure was preceded by a ceremony.
An impressive ritual.
The head pig, his neck stretched, quickly tossed his head. His snout pointing up, he started to walk in circles, repeatedly flapping his silvery wings, communicating his intention to fly. Shortly, all pigs were humming and tossing their heads in unison.
Suddenly, the whole flock took off in a honking concert.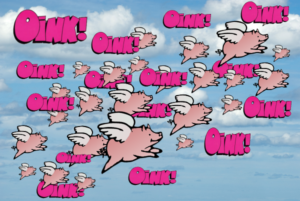 In awe, I decided to immortalize the passage of the mythical creatures by creating a small mosaic purse: a clutch bag or minaudiere as we call these in French.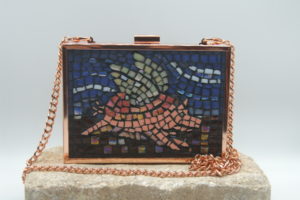 Wearable art
A Minaudiere is a women's fashion accessory, generally considered a jewelry piece. It is meant for evening use and can hold just a limited amount of items due to a simple and structured design. The minaudiere is more a fashion statement than a functional piece of wardrobe. Typically you will pair them with formal wear for events such as weddings, cocktail parties and red carpet events.
The minaudière appeared during the 1930s. Its invention is attributed to Charles Arpels, of Van Cleef & Arpels, but many jewelers and haute couture designers have created their own models.
Homage to the flying Pigs
I created this mosaic minaudiere to immortalize the passage of the magical creatures in Alabama ! Its sides are glass mosaics. The frame is metallic rose gold and its linings are sating and vegan leather.
This minaudiere took her own flight toward the north. A good friend and collector of mine now owns and treasures it. One of its sides represents the flying pig, the other are her initials.
I am presently making several minaudieres, some of a modern design, some inspired by ancient Greek and Roman art. Contact me if you'd like to know more about this wearable art.