Roman art in your kitchen.
In September 2018 I started working on a line of designs based on my studies of
Roman mosaics
Roman frescoes , and
my own mosaics.
I want to share the elegance of those wonderful pieces of art and craftsmanship. Making them available by printing them on different goods will allow people to enjoy them in everyday life, from their kitchen to the beach to their car.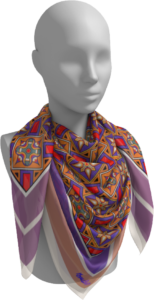 Exclusive and original gifts.
These designs are available printed on various objects : mugs, shirts, pillows, scarves, phone shells… I have selected a company offering an excellent accuracy and quality of printing and these make beautiful, absolutely original gifts.
Beside reproductions of my own mosaics,  I started creating mixed designs that combining :
Reproductions of actual mosaics – mine and ancient
Reproductions of ancient frescoes
Geometric patterns based on Roman and Greek mosaics
Artifacts and apparel  printed with these designs are presently available on my RedBubble store.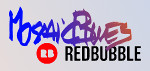 Visit the store and take advantages of promotions.
Some of my latest designs :
Clicking on the images below will take you to individual pages of some of my latest square designs.
The Medusa Square combines 5 different mosaics of Medusa's head, the center is mine, the four corners are actual roman mosaics. 3 dimensional spiraling pattern radiating from the center Gorgon was used in several 3rd century mosaics around the Empire.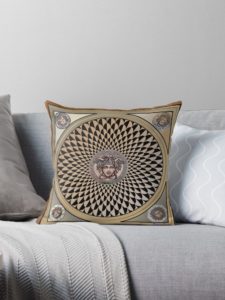 This pattern is inspired by a 3rd century floor mosaic from Switzerland. Although there are many examples of 3 dimensional illusions of this type in mosaics, this twirling arrangement is the only one I ever found of its particular type.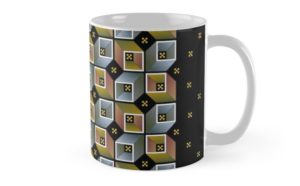 Setif reproduces a beautiful pattern used in a floor mosaic from the Roman town of Sitifis in Algeria. The colors are very close to the original mosaic.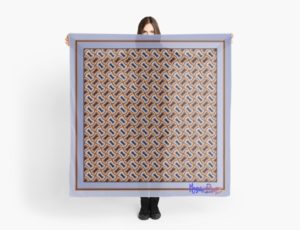 Amba Aradam is inspired by the floor of the villa of a Praetorian guard commander from the 2nd century. It was excavated in Rome during works on a new subway line in early 2018.
I have kept the original pattern, but used colors different from those of the original mosaic
Golden Oriole is one of the many birds represented on a Roman fresco from the house VI of the western area of Pompeii, ca 40 AD.