Grenadier Tree of Life – Alchemy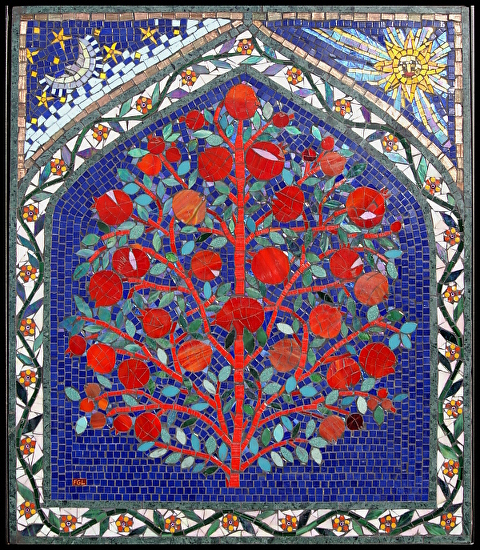 Medium: mosaic on Cement backing board
Size: 30″ (76 cm) x 26″ (65 cm) x 2″ – 5 cm
Price: $5,500.00 USD
Availability: Sold
This Grenadier is a different interpretation of my previous Pomegranate Tree mosaic.
Both pieces are inspired by a 13th century Persian Manuscript.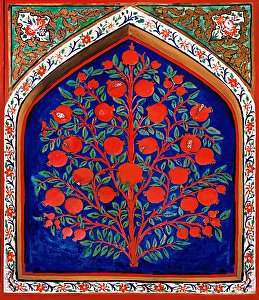 Grenadier is slightly bigger than Pomegranate, and I used slightly different materials,
But the main difference is found at the top corners of the piece, where I used ancient Alchemical Symbols of the Sun and Moon.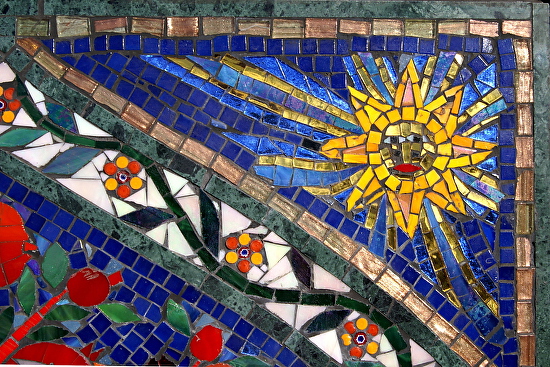 These illustrations are often found in European medieval manuscripts contemporaneous of the Persian Pomegranate Tree. The Sun symbolized open, bright and masculine aspects of reality, while the Moon symbolized its deeper, darker and feminine aspects.
I was also able to use numerous beautiful iridescent materials for this Grenadier. These were not available to me 6 month ago, and the result is simply amazing under a changing light…