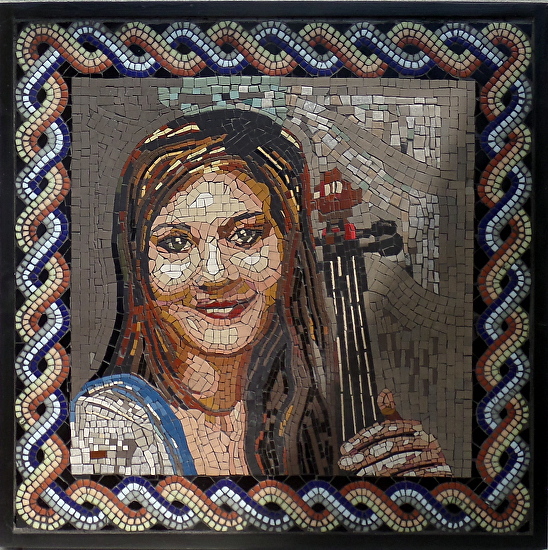 Medium: mosaic on Vedi Board
Size: 23.5″ – 60 cm x 24″ – 61 cm x 2″ – 5 cm
Price: $4,200.00 USD
Availability: Sold
Carlotta is an other portrait of a young musician.
Charlotte plays the Cello…
She is the sister of Luana, whose portrait I completed in December 2014.
I laid the model on its bench on March 13, 2015.
Because she was going to travel to Europe in my suitcase, I built Carlotta on a fiberglass mesh.
This considerably reduces the weight you have to carry with you.
On March 24, I had laid the Guilloches borders. Guilloches are a type of entrelacs. They were a common pattern of decoration in classical Roman mosaic.
In Carlotta's case, we have 2 triple strands guilloches made of tiny glass tesserae.
They make a beautiful bright frame around the actual portrait realized with less shiny ceramic tiles.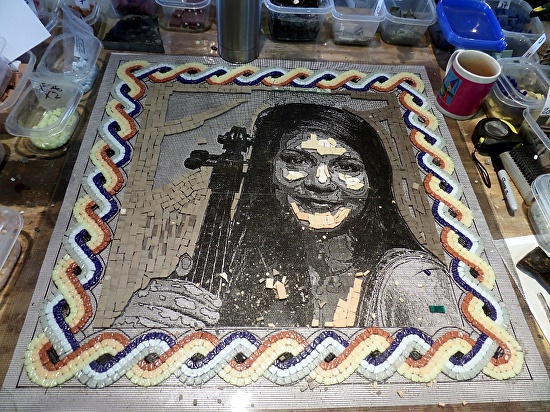 On March 30, 2015, I had progressed on the face.
At this stage, about 50 % of the mosaic had been laid.
On April 5, all tiles had been laid.
Remember that you are seeing the back of the mosaic !
Carlotta arrived in France on Bastille day : July 14, 2015.
Here I just took her out of her crate.
I flipped her on July 16, with 3 other mosaics I had taken up with me.
July 24, I am here in my parent's garden Carlotta, Pomegranate Tree, Green Eyes VII and VIII.
The whitish material you see on top of them is the water-soluble glue I used to lay the tesserae.
There is still about 10 hours of work – mostly cleaning – on each mosaic before it is complete.
July 25, Carlotta unframed in the small in the Rue du Docteur Ravin Street.
Carlotta was mounted on Vedi board, a light and strong material I have not been able to find in the US so far.Because I built Carlotta on a mesh I also was able to reduce her weight by other means.
Carlotta weighs very little at 17. 2 lb (7.8 kg). The same size piece mounted on regular backing board 2 years ago would have weighted twice as much around 35 lb.
On August 1st, 2015, Charlotte finally met Carlotta …
And very proud she was …