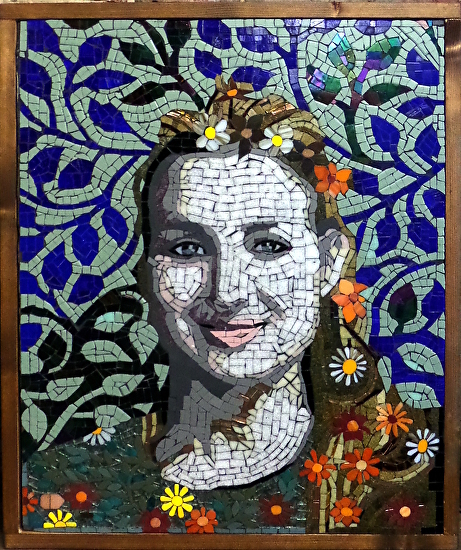 Medium: mosaic on Vedi Board
Size: 25″ (63 cm) x 21″ (53 cm) x 1.5″ (4.5 cm)
Price: $3,600.00 USD
Availability: Sold
Portrait of a young talented musician
Luana is the mosaic portrait of a young talented musician. Its composition is inspired by Alessandro Boticelli's famous painting "Primavera".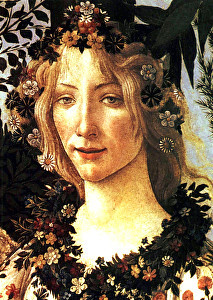 From a (hard to get) picture of my model.
She is also the sister of Carlotta.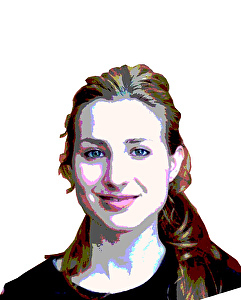 I designed a medieval type background that would better fit the mosaic medium.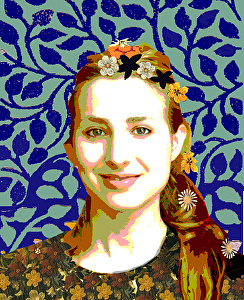 Then I sprinkled her hair and robe with flowers …
On September 3rd, I started to lay the first tessera in my Alabama workshop …
On October 9, I had used about 30 different types of materials, mostly glassy ones.
Luana was 90 % complete !
On October 16, I lifted Luana from her printed model.
Because Luana was built on a mesh, here you can see what she will actually look like when complete.
Luana is built according to the reverse method. If she had been built without the mesh, I would not have been able to lift her from the printed model, but I would have set her directly in concrete. This mesh allowed me to transport her to France.
After a pleasant flight, Luana arrived in Saint Valery sur Somme on December 17.
Here she rests on a bench in the new French Mosaicblues studio.
On December 20, after I had set her in concrete… I finally unveiled Luana.
First time to see her lovely face on her final support …
Finally, on Christmas Eve, the Model and the Mosaic met !
And posed for posterity …
The Luana Mosaic Video : From Design to Delivery