Medium: mosaic on Vedi Board
Size: 28″ (60 cm) x 33″ (82 cm) x 2″ (5 cm)
Price: $4,000.00 USD
Availability: Sold
In July 1954, in le Bois de Cise, France, Claude and Marie took a moment to contemplate the Ocean.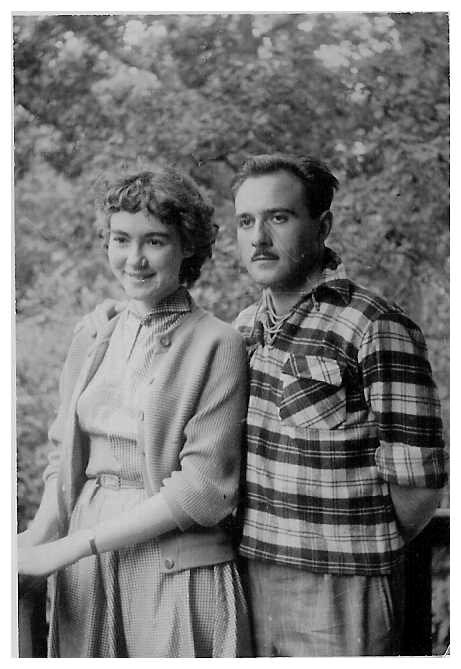 60 years later, in July 2014, Claude asked me to make a mosaic for Marie.
After a few computer manipulations, I ended up with a first model.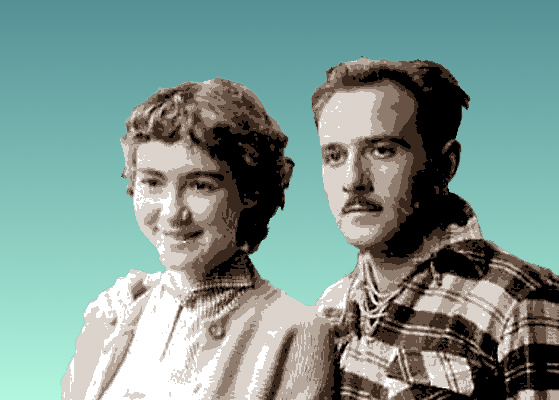 Because this work would be executed according to my usual and preferred reverse method, I inverted the image to define the colours.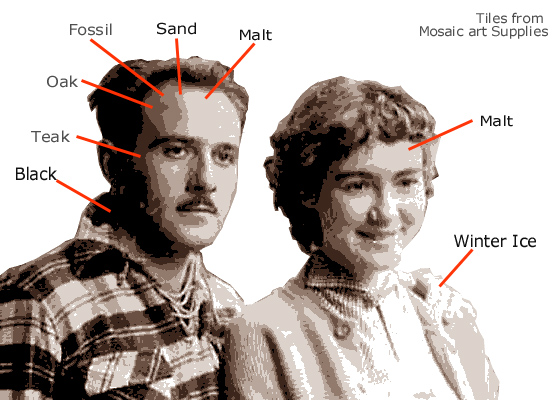 As I intended to take this work with me to France in a regular suitcase I built it in 2 separate parts, each face separately, to later assemble them in France.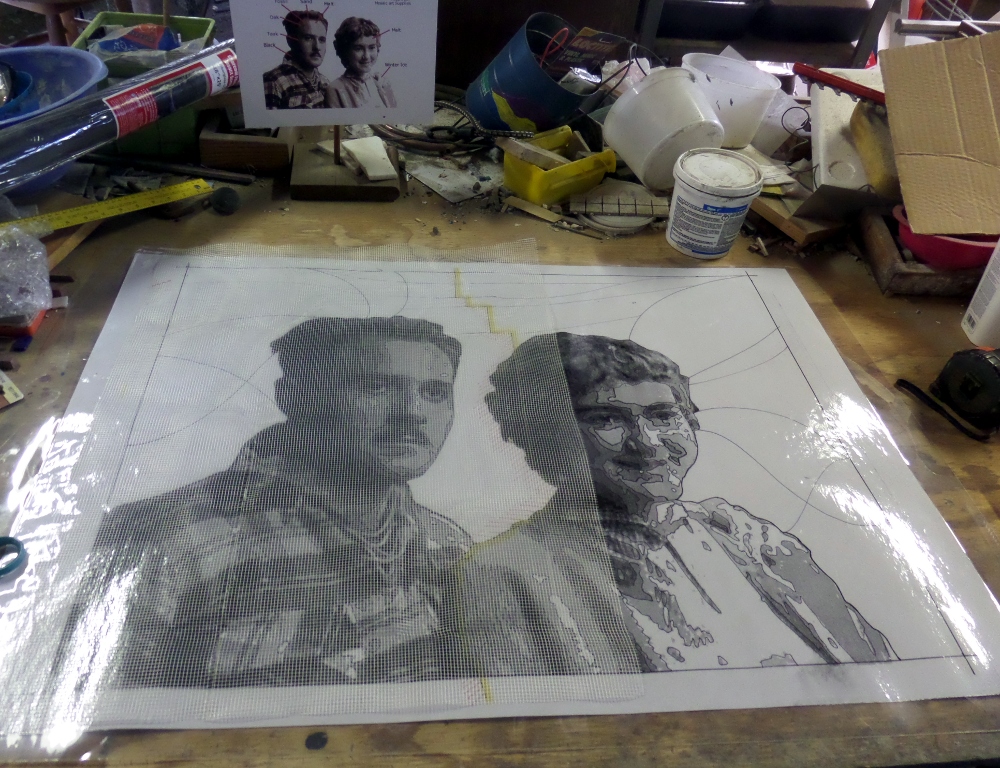 August 27, 2014.
In September, I started to lay off the glass tesserae on Claude's face.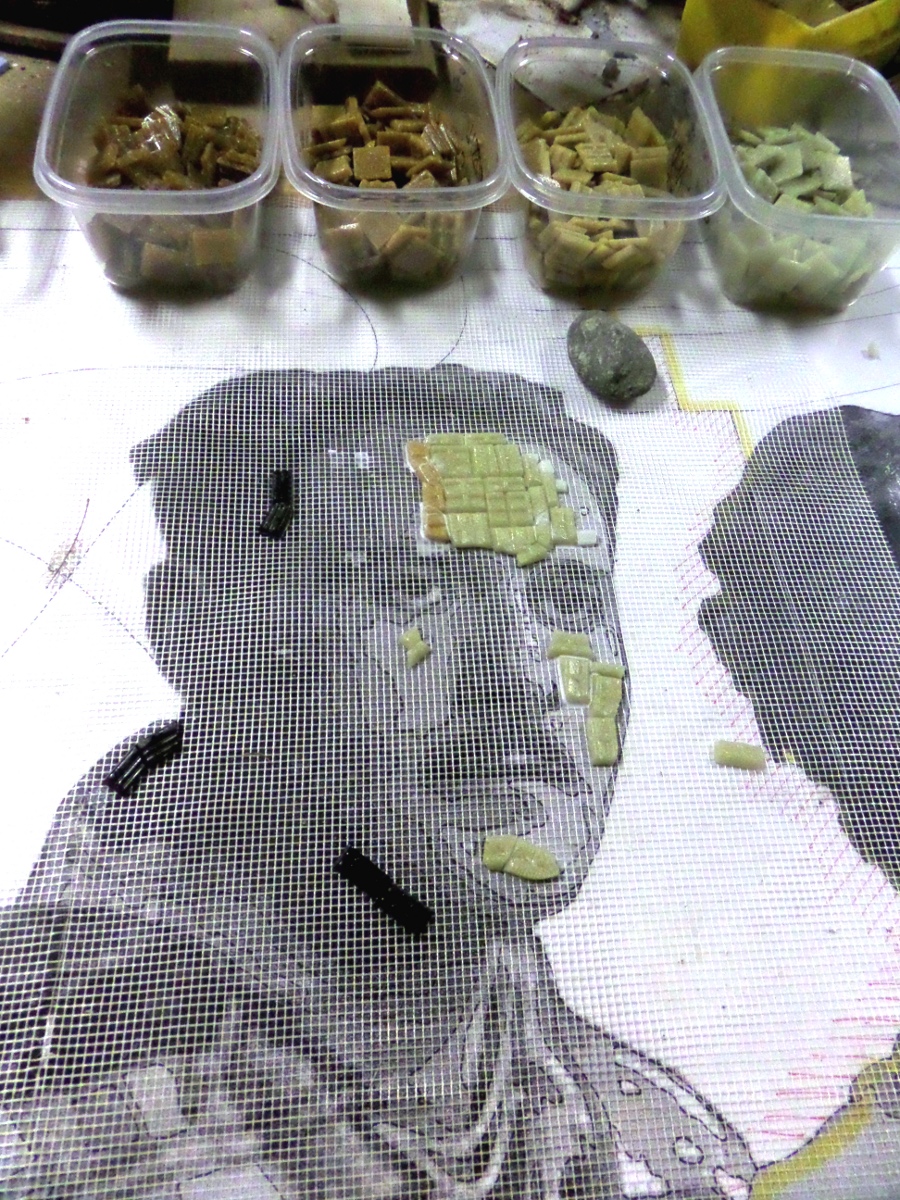 September 7, 2014.
Mosaics are not made at the same speed. Work goes slow at the beginning, then speeds up and slows down again at the end of the laying.
Once 20% of your tiles are in place you use them to support the next coming tiles. A mosaic grows following a process similar to a crystallization.
You start in several places, gluing a few tiles. You then wait for the glue to set before you can use these tiles as support to glue more of them.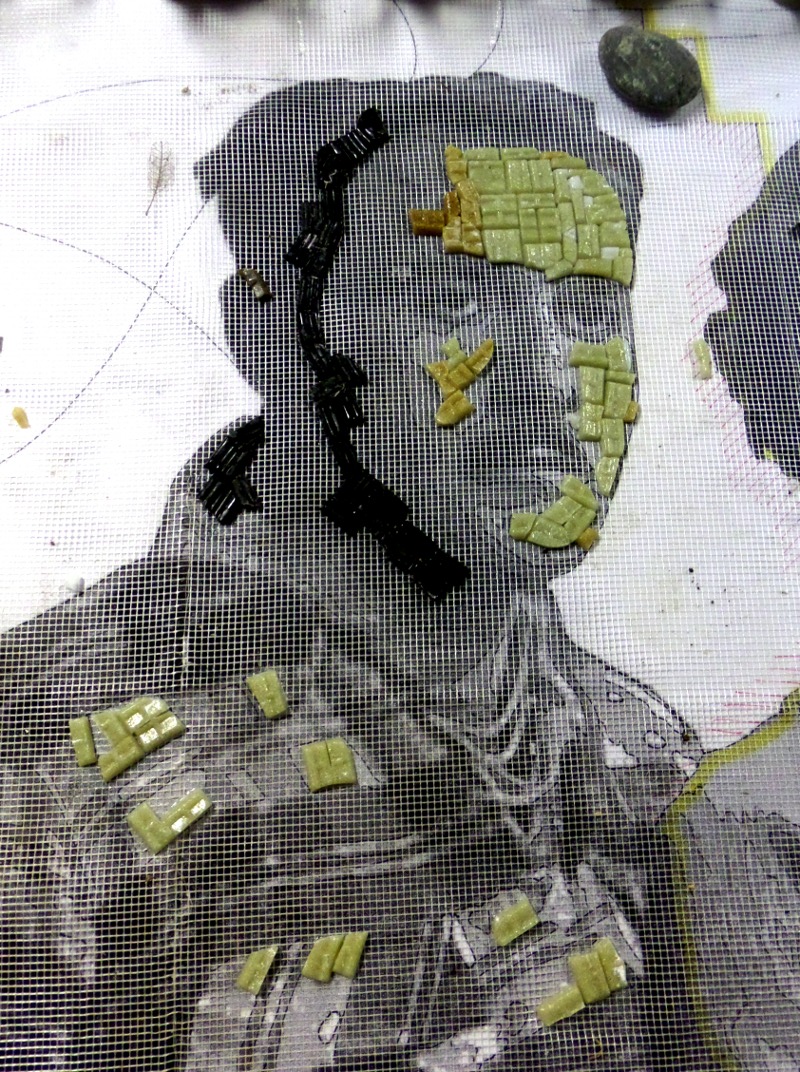 September 16, 2014
Once 90 % of your tiles are down you are left with only little spaces and gaps and you slow down to carefully adjust the shape of each tile to fit them inside existing gaps.
October 20, 2014.
Early in November, Claude's face and chest were complete, and I started laying his background.
​
 

November 8, 2014.
I transferred him onto another working table, so I could start working on Marie's part.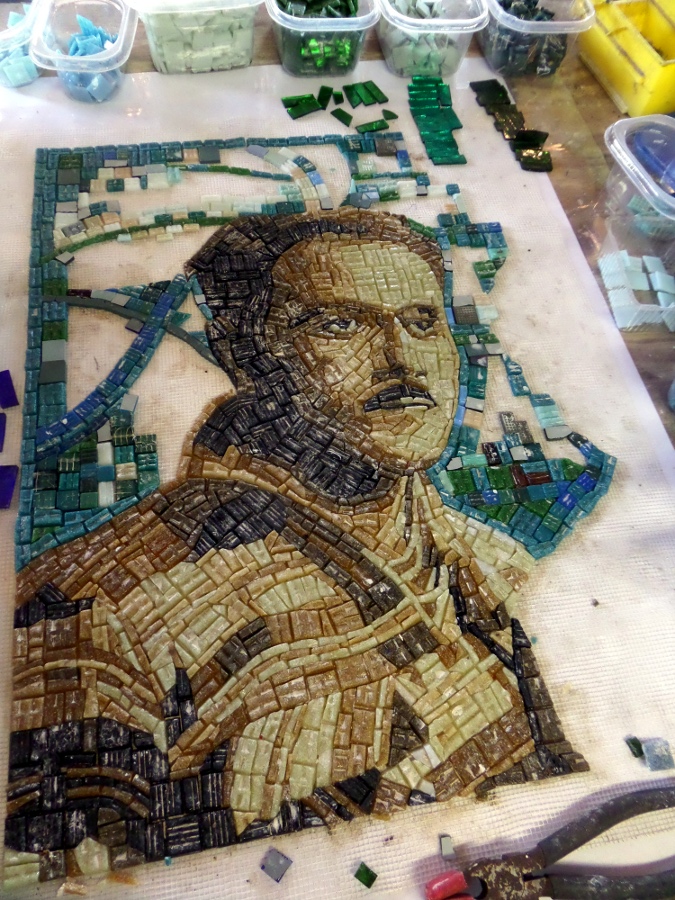 November 15, 2014.
Mid November, I started to lay Marie's tesserae.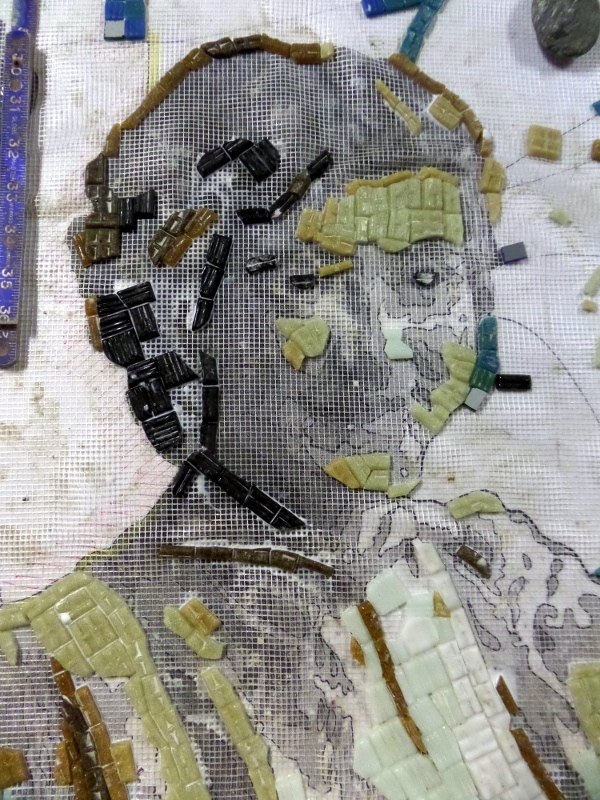 November 16, 2014.
I was now progressing on both faces on 2 different tables : completing Claude's background, progressing on Marie's face and chest.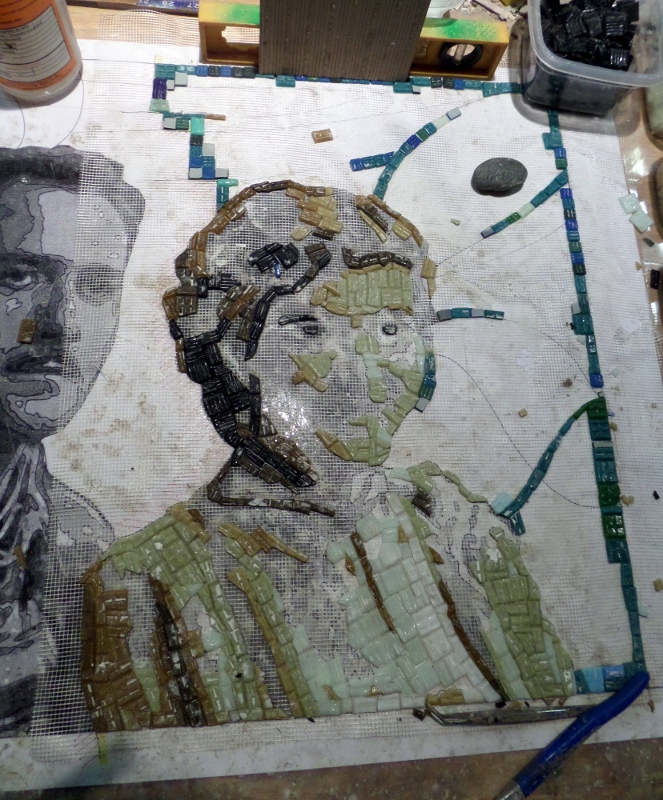 November 25, 2014.
I completed Marie's face on November 29, and from then on I concentrated on her background.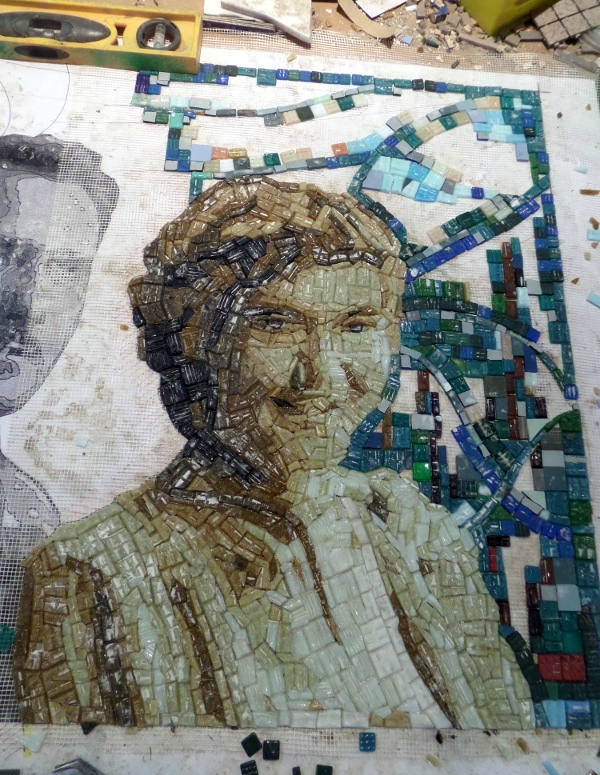 December 1, 2014
At the end of November Claude part was complete. Portrait and background.
December 1, 2014.
I completed Marie's part on December 3rd.
I laid them down side by side to get a first idea of what they would look like together …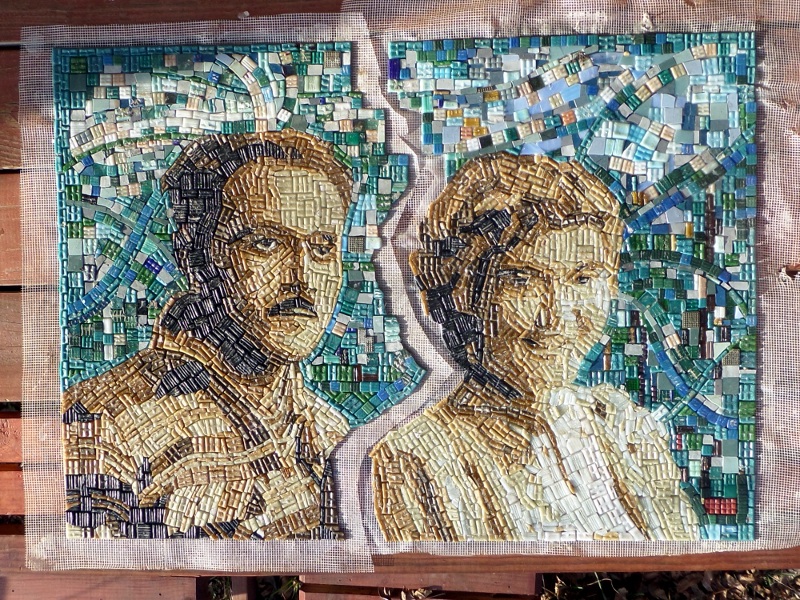 December 4, 2014.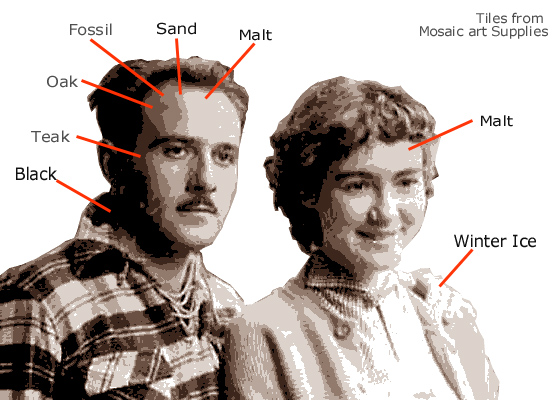 You always feel a little anguish at that very moment… But well… I was quite satisfied.
Claude, Marie and Luana flew to France with me on December 16 and on December 18 I went to work in the new Mosaic Blues Studio.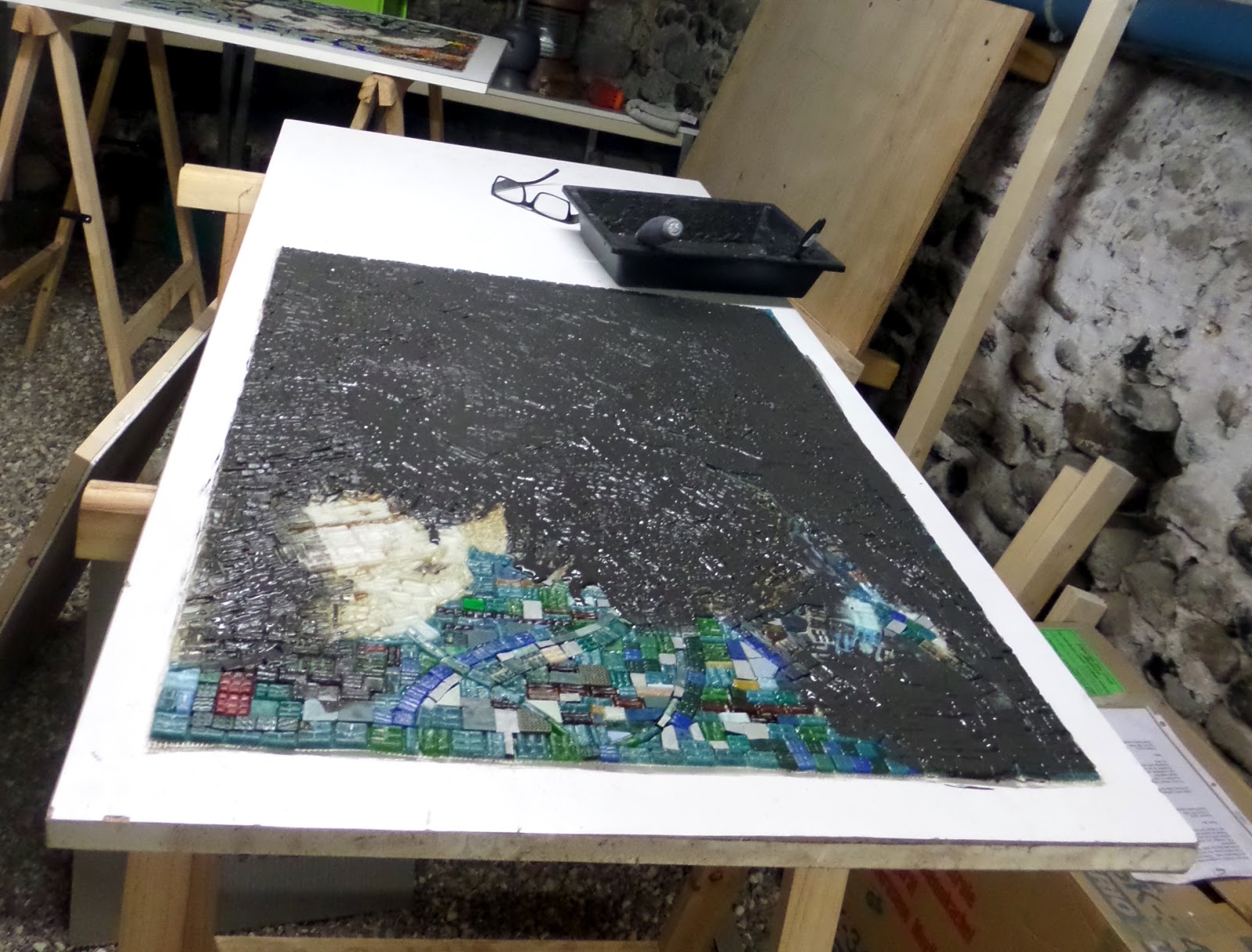 December 18, 2014. Pre-grout.
And unveiled them on December 19…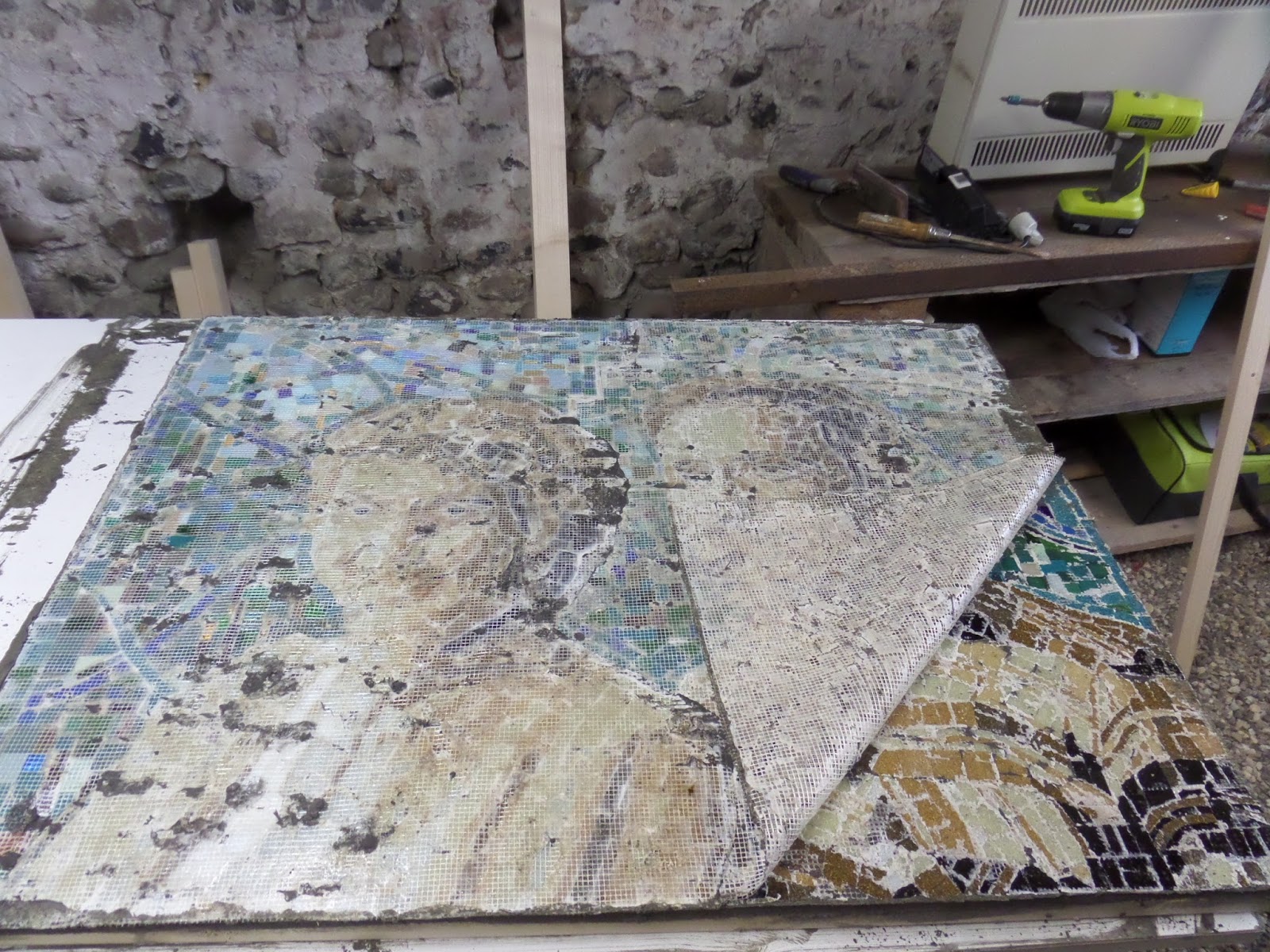 December 19, 2014
The flipping of a reverse method mosaic is always a magical moment. When you build it on mesh as I did this one, you actually can get a good idea of what your mosaic will look like once complete. Still, you never really know until you're done !
The "Unveiling" is the last operation : the actual mosaic appears to your eyes …
On December 24, the Claude & Marie mosaic was complete, assembled and framed.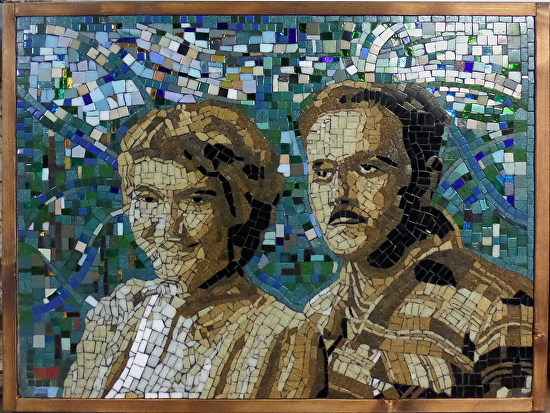 December 24, 2014.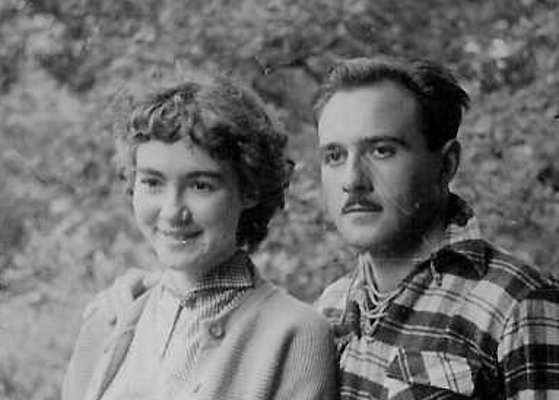 July 1954
Claude and Marie's mosaic is 33 x 28″ (82 x 60 cm) and only weighs 22 lb (10 kg)