Roman mosaics of Southwestern France
The Aquitaine school of mosaics refers to a regional mosaic style followed by itinerant teams of mosaicists during the 4th and 5th century. Its regional center was located in Gallia Aquitania.
A distinctive and evolutive style
The style of this Aquitaine school of mosaics is originally the way individual subjects are designed within by boxes separated by a grid.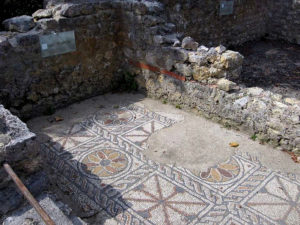 Those boxes contain either geometric figures (medallions, Solomon knots) or stylized plants: vines, ivy or acanthus scrolls.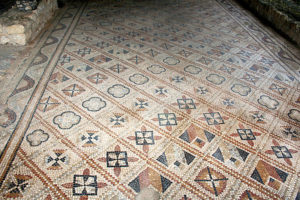 During the 5th century local mosaicists influenced by colleagues from other parts of the empire created more original compositions. Such are the lilies and grapevine mosaics of Seviac (420-440 AD).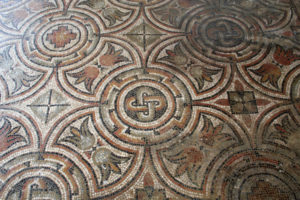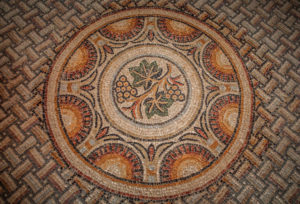 These mosaic are characteristic of the evolution of this regional mosaic style influenced by external sources, very likely by mosaicists trained in Africa.
The materials used to build the mosaics were :
Stone : marbles from the Pyreneans, colored rocks including ophite for its green color,
Terracotta,
Glass paste for the brighter colors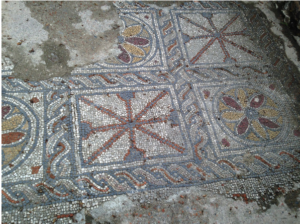 Places to visit and enjoy this mosaic style :
Elusa: Domus de Cieutat. The remains of the Domus, an urban house of nearly 3,000 m2, are located in the heart of the city of Elusa. It served as a ceremonial residence for its wealthy owner. An interpretation center equipped with interactive tools allows to discover the social life in the Gallo-Roman capital of the Elusates tribe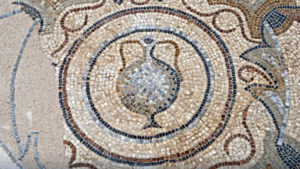 Fount de Rome: Gallo-Roman villa in Fleury.
Loupiac: Gallo-Roman villa of Loupiac.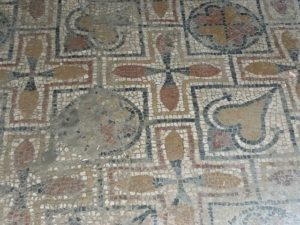 Loupian: Gallo-Roman villa .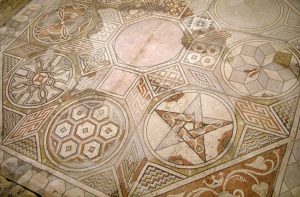 The mosaics in Loupian were laid by 2 teams of craftsmen.  One team belonged to the Aquitaine school of mosaics while the other one came from the Eastern part of the Empire, probably from Syria.
Martres-Tolosane: Roman villa of Chiragan.
Montcaret: Gallo-Roman villa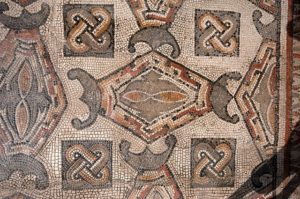 Moncrabeau: Roman villa of Bapteste.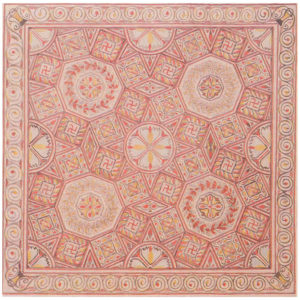 Montmaurin: Gallo-Roman villa of Montmaurin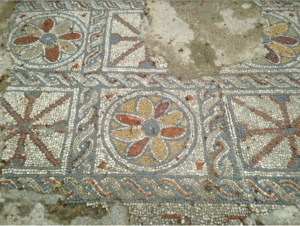 Montréal-du-Gers: the Gallo-Roman villa in Séviac. was a 6,500 m2 (65,000 square feet) Palace. It was built during the Late Roman Empire to house  an aristocratic family. It is lavishly decorated with polychrome mosaic carpets and features some large private baths.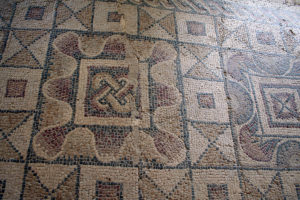 Nérac: Roman ruins of Nérac.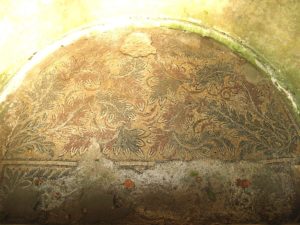 Plassac: remains of three Gallo-Roman villas, museum on site.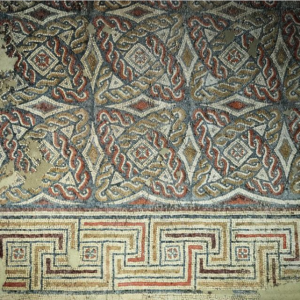 Pujo-le-Plan: Gallo-Roman villa of Bignoulets.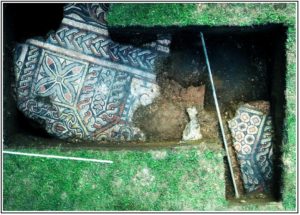 Saint-Sever: villa of Gleyzia d'Augreilh.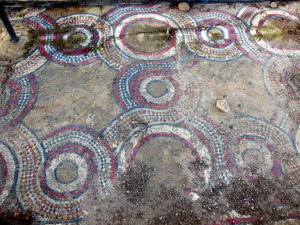 Sarbazan: Gallo-Roman villa of Servatius, in Mouneyres.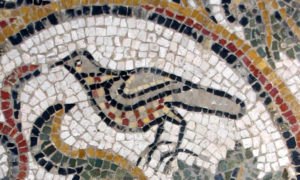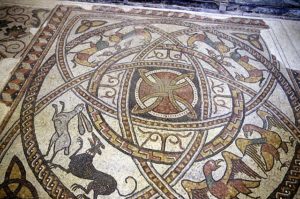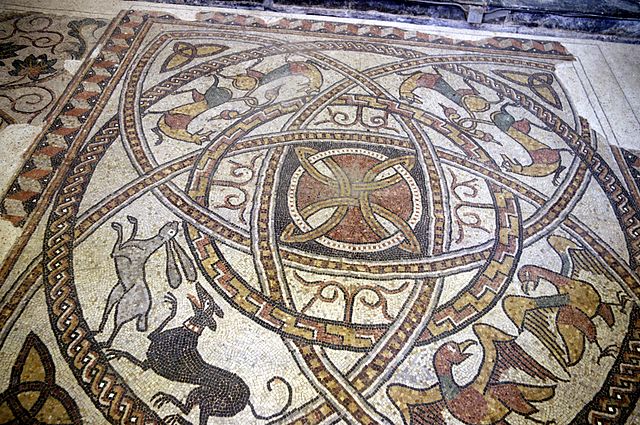 The mosaics, displayed inside the abbey itself, actually date from the 10th century. They are not the product of the Roman Aquitaine school of mosaics, but are still worth the visit, you will realize that some of the patterns used by the medieval mosaicist were used by the roman ones. (They in fact were already being used by the Greek vase painters of 700 BC, but this is a different story, and I am working on it too !)
I hope you enjoy the visits, have a glass of wine to my health !