Grouts, Thinsets, and when to use them.
Before synthetic adhesives were invented, since the beginning of the Art, floor layers and mosaicists have been using cement based Thinset Mortars and Grouts.
This articles is about these materials and when to use them. It is not about how to use them.
Thinset versus Grout
Thinset Mortar and Grout are both Portland cement based materials, with different purposes. Thinset is a structural material. It bonds your tiles or tesserae to their support, it sets slowly, and is very strong.

Grout is a filling materials, it flows into the gaps between the tesserae and fills them up to make your mosaic look better. It sets quickly and is not very strong.
It is important to remember that while Thinset is structural, Grout is not.
Even though in some cases you could use Thinset instead of Grout – and I will address this further down – you should never use Grout instead of Thinset.
Differences of composition between Thinset and Grout are the size of the aggregates (stone, sand, etc) and the quantity of water added to the mix.
THINSET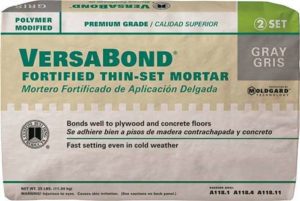 Thinset – Thinset Mortar – Mortar
You will find these three terms used in litterature and wonder what are the differences, there are none, they are interchangeable. "Mortar" is a generic term often used by brick and stone mason, "Thinset" is more often used by mosaicists or tile floor installers.
What is Thinset Mortar?
Thinset is a bonding material. It is a portland cement (the same as used in concrete) in which polymers have often been added to make it stronger. It is used to make tiles stick to their support or base. Because it has great structural strength, it sets – or cures – slowly. I let my mosaic sit for at 48 hours before I move them after thinset application.
Which kind of Thinset Mortar?
I purchase mine from construction materials store (Lowes, Home Depot). I make sure it contains acrylic polymers. I purchase small bags.
Which color Thinset?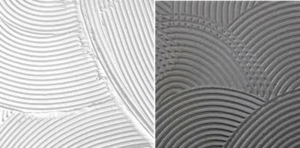 Thinset comes in Gray and White. For some reason unknown of me,  Gray Thinset is stronger and lasts longer. I do not now why, but whenever I have had problem with thinset it was white. So now I stay away from it. And then, gray thinset is cheaper…
Storage of Thinset.
Thinset does not last for ever. It quickly looses its stickiness, specially in wet climate like we have in Alabama. I purchase mine in small 25 lb bags and I store them inside 5 gallons bucket with lids. I never keep a bag of thinset longer than 2 month. Trying to save a few dollars by using old thinset is not worth seeing your mosaic fall to pieces when it turns to dust…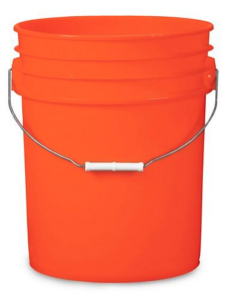 Safety
Avoid breathing thinset or grout dust. Avoid making big clouds when you mix them. If you do, just get out of the room until it settles down.
Cement based materials are mildly caustic, meaning they will slightly burn your skin, so try to avoid contact on your skin, which is not easy unless you wear rubber gloves. But of course, it is not easy to work with gloves… when I mix grout or thinset I try to wash my hands with clean water and dry them up often. Generally my skin gets a little dry after I manipulate thinset or grout. Olive oil usually takes care of this.
GROUT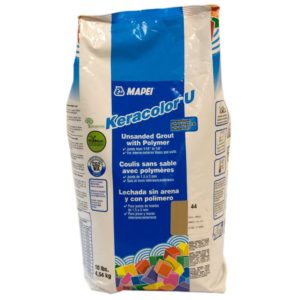 What is Grout ?

Grout is a filling material. It is a portland cement (the same as used in concrete) in which polymers have often been added to make it stronger. Grout has a low structural strength and does not stick to surfaces as well as Thinset. Grout sets quickly (10 to 30 minutes) and needs to be cleaned up shortly after use.
The Use of Grout
Grout is used as a filling material, it flows between the tiles and sets there. It makes the whole mosaic look better, and easier to clean up.
Which kind of Grout ?
Grout comes in 2 main categories :
Sanded Grout is thicker and more durable than unsanded Grout, but the sand in it can damage smooth tiles by abrasion.
Sanded grout should never be used for joints smaller than 1/8" (~ 3mm).
| | | |
| --- | --- | --- |
| Gap size | Below 1/8" (3 mm) | Above 1/8" (3 mm) |
| Grout | Unsanded | Sanded |
Coloring grouts.
If you do not like the color of your grout you can correct it with cement stains – I often add black cement stain to my charcoal grout to blacken it. This is a safe solution which provides long lasting fillings between the tiles, but the range of colors is limited.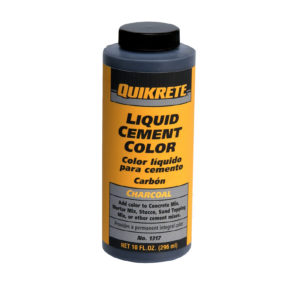 You can also use acrylic paint to make very colorful grouts. However, I have observed acrylic – cement mixtures do not always age well and tend to shrink and crack.
MIXING Grout and Thinset
I use a mixture of Grout and Thinset to
Fill up big gaps between tiles (over 3/8" – 10 mm)

Pregrout reverse method mosaics
Big gaps to fill
When you have big gaps (over 3/8" ~ 10 mm) between tiles, sanded grout may not be structurally strong enough and it is a good idea to mix grout and thinset together (or sometimes even use thinset alone). Adjust the color with cement stains, and remember that thinset cures much slower than grout – you will have much more time to clean up your mosaic – but is also cures much harder – so do not wait too much to clean it…
Pregrouting reverse method mosaics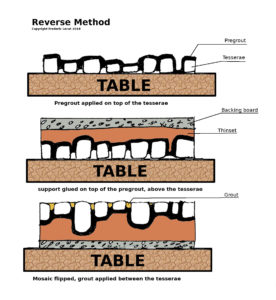 In reverse method we build our mosaic upside down, then apply thinset on top of it to glue its support above it. Once the thinset has cured, we flip the mosaic. Often the thinset shows between the tiles once you have returned the mosaic, leaving no space between to apply the grout you wanted to use. In order to avoid this I "pregrout" my mosaics by applying a mix of thinset and grout of the right color on top of the mosaic before applying the thinset.
I use a 50/ 50 mix of Thinset / Grout and apply it very liquid to the back of the mosaic. Once it is cured, I then apply the actual Thinset to glue the support on top of the mosaic.
Because Grout does not stick you should NEVER use pure grout to pregrout your mosaic. If you do so your coat of Thinset may not be able to stick to your tesserae and catastrophes will ensue when you flip your mosaic. (I have learned this the hard way).