One of my mosaics has been selected to show at the Montgomery Museum of Fine Arts

The 43rd Montgomery Art Guild Museum Exhibition will be held June 1 through July 21, 2019. Carola is one of about 100 pieces selected to appear in the show, I feel very honored to have been accepted. Some how I must be doing something right !
Carola Quinta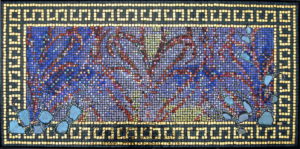 Carola Quinta is the fifth of my series of Carole's eyes (Cherchez la femme !) I am currenctly completing the last 2 of the series of eight.
As an artist, you are pulled between opposite tendencies, on one hand, you are inspired and convinced that your work is valuable, that you are bringing something to your community. On the other hand, you constantly doubt your abilities.
Having one of my pieces selected to appear in such a show makes me very happy !

Join me at the Montgomery Museum of Fine Art next Friday May 31st at 5:00 pm for the grand opening !