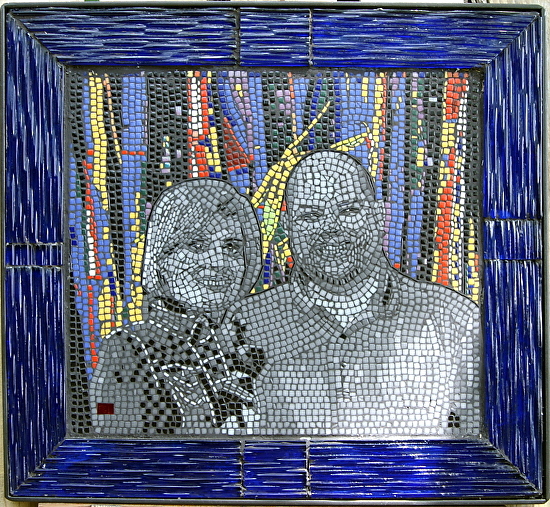 Medium: Mosaic on Cement backing board
Size: 25″ (63 cm) x 28″ (70 cm)
Price: $3,500.00 USD
Availability: Sold
This Aaron and Natalie mosaic portrait was a commission for some dear friends of mine. A present from Natalie to Aaron for their 10th anniversary.
I have known both of them for over 15 years when we were practicing karate together; and was invited to their wedding !
I had done a portrait of their children a few years ago. Now Natalie wanted their own.
She provided me with high resolution pictures…
| | |
| --- | --- |
| | |
| I rearranged to get their heads closer and create an actual model without a background. | |
| Knowing that Aaron liked Bamboos … | |
I played with the colours of this image to create several projects I shared with Natalie.
And I finally went to work…
| | |
| --- | --- |
| | Mid April,  the main piece was ready for its frame… |
| | |
| --- | --- |
| The addition of its Murano glass border was a little tricky, but finally… | |
By the end of April the whole piece had been flipped, cleaned up and grouted…
Aaron and Natalie is entirely made of 8 mm recycled glass tiles. The portrait itself is made of black, white and 4 shades of grey tiles, while the Bambo background uses 14 different colours !
The border is made of a beautiful cobalt blue Murano glass that brings the eyes towards the actual portrait.
Roman Musivarii were using the same kind of technique when they had extremely accurate "emblemata" mosaics created by master craftsmen in dedicated workshops. These emblemata were shipped to their destination and framed with less detailed mosaics as frames.
The process of clearly defining a commission mosaic can be lengthy when people live in different places. It is however important because I want to make sure I well understand what my collector desires.
In this particular case, I was dealing with people I have known for a long time, friends who already own one of my mosaics. So I had a good idea of what would please them.
When I work with people I do not know as well, I try to develop an accurate feeling for what they need or are looking for in a mosaic and this preparatory work is extremely important to create a good fit between us.