A five days mosaics trip.
The itinerary and logistics of a 5 days trip to sightsee Roman mosaics of Northeastern France and Western Germany. Detailed articles about the actual mosaics I saw will follow.
Gallia Belgica and Germania
Shortly after the conquest of Gaul by Julius Cesar the Romans invaded western Germany. They established colonies along the Moselle and Rhine rivers. In 16 BC they established Augusta Treverorum – Modern day Trier or Treves on the Moselle river as the capital of Gallia Belgica. In the 4th century, It became the capital of the Western Empire.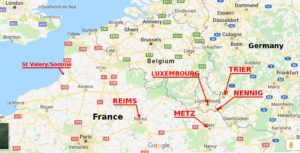 The cities of Divodurum and Durocortorum (modern Metz and Reims in France) were also important commercial military and administrative cities in this area.
When it comes to inspiration you can't beat the real stuff.
Although photographs and drawings help us get an idea of what a work of art looks like, seeing and touching the real stuff is a different experience. Standing in front an actual mosaic is like hearing music actually performed on stage. It inspires me. When I can touch or look at a mosaic from different angles, I relate to the actual artists, craftsmen, patrons and clients who stood in front of it before me. This is why I visit museums or archaeological sites.
Itinerary
I left the Channel coast on Friday June 20 at 9:30 am to arrive in Nennig, Germany, 5 hours later. It was a nice and easy 480 km drive. Nennig is a 370 km or 4 hours drive from Paris.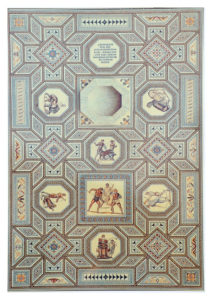 In Nennig, I visited the great Roman Mosaic, and the Borg Roman Villa 12 km East of it.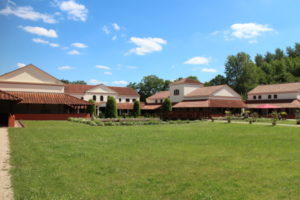 I had booked a nice room through AirBnB. This kind of accommodation allows me to meet local people who often help me find my way to points of interests that may not be in the books and to the best taverns to relax at the end of the day.
On Saturday, June 21st, I drove to Treves (Trier in German), one hour East of Nennig, to visit the Archaeological museum (Rheinisches Landesmuseum Trier), and some of the huge remains from the time Augusta Treverorum was the capital of the empire.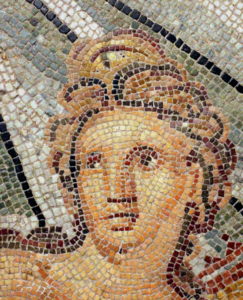 I enjoyed a glass of Moselwein close to the Porta Nigra and drove back to Nennig to spent the night.
On Sunday June 22nd in the morning I drove to Luxembourg City (36 km or 45 minutes drive) to visit the Musee national d'histoire et d'Art du Luxembourg. I wanted to see the magnificent Vichten mosaic of the muses. Unfortunately the museum was closed on that day to celebrate the official birthday of the Grand Duke (who wasn't born that day…)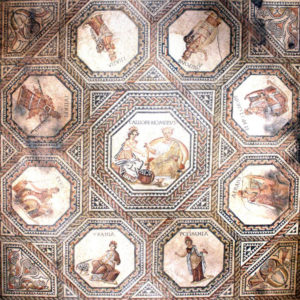 I then drove down to Metz (65 km or 55 minutes drive) where I visited the magnificent Musee de la Cour d'Or and spent the night in an other room booked through AirBnB.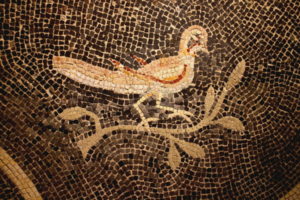 On Monday, June 23rd I drove East to Reims (190 km or 2 hours drive) where visited the amazing Mausoleum of Bourgogne, the Cathedral (a roman mosaic has been reemployed as floor of one of its chapels), and a set of mosaics decorating the front of the Jacquard Champagne building. I stayed with some relatives in the small village of Bourgogne.
On Tuesday, June 24th I visited the impressive Musee Saint Remy set in a benedictine Abbaye, its beautifully displayed Gallo-Roman collections and the Maison des Syndicats were a Roman geometric mosaic unearthed in the 60's is displayed.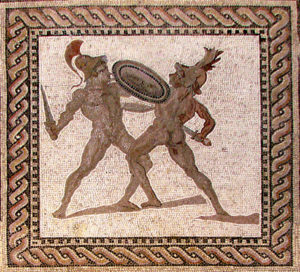 I then drove back to Saint Valery sur Somme (250 km or 3 hours drive) were I enjoyed a much cooler weather.
Culture and Gastronomy
The whole trip took me 5 days, I did see some very beautiful mosaics I had planned to see, I saw others I had no idea existed. Some in museums, some in situ. The 3 museums I visited were wonderful, pieces were displayed in a beautiful manner, well described, in French, German and English for the French museums, mostly in German in Trier.
Beside the archaeological interest, the food and wines were great, I brought back a few bottles of Moselle wine to share with family and friends…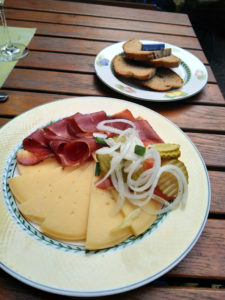 Logistics
Transportation :
Such a trip is easy to plan from Paris or Frankfurt. Coming from abroad, you can land in one of these towns, rent a car and enjoy a very pleasant cultural and gastronomical trip.
You can travel between towns by train or buses, but cars are better. You can rent a car with full insurance coverage for about $35.00/ day.
Parking :
There are usually parking spots close to the Museums. Usually you park and pay in the street. There are many systems and technology is quickly changing. In 2019, the parkmeters in Germany would only accept cash, in France you could use credit card or phones.
Hotel :
I love AirBnB for it is cheaper and more personable than hotel. You can get a basic and pleasant room between $30 and 45 per night. Hotels rates are usually 3 times higher.
Timing your visits :
I have missed lots of visits by showing up at a museum or site that was closed that particular day. Rules vary in each country. Before you plan your visits you should check regular days and hours of visit for each site as well as national holidays for this particular country.
Most French museums are closed on Tuesdays, some, such as Museum Saint Remy in Reims are closed on Mondays. Most German museums are closed on Mondays. It is a good idea to check with each museum's website when you plan your trips.
National holidays : Check these before you plan your visits. Here is a link to check National holidays of European Countries.
Other :
Entrance fees :

Between 5 and 8 Euros per adult. In Trier you can purchase a pass that gives you access to several buildings. Everything being at walking distance, such a pass is a good deal.

Photography :

Taking pictures of mosaics can be a tricky thing for the lighting is not always ideal in museums. Most museums allow pictures without flash. Selfie sticks are a great way to take pictures away from you above floor mosaics. Unfortunately more and more museums now forbid selfie sticks to prevent people from accidentally hitting each others with them. I found that if you bring your camera already set on your stick it looks like a professional monopod and nobody asks questions.