Hanging rails for heavy mosaics mounting…
Hanging rails are an excellent solution to mount mosaics on walls. Mosaics being made of heavy material, Stone, Ceramic, , glasses, they are much heavier than other media. They usually cannot be mounted on a wall as would a painting of photograph.
Most of my mosaics now come with a set of Hangman Heavy Duty Mirror & Picture Hanger hanging rails. It consists of two aluminum interlocking bracket rails. The aircraft grade aluminum they are made of will not corrode and can be used indoors or outdoors on all surfaces.
These rails have been designed for heavy mirrors and can carry considerable loads (from 60 lb for a 5″ set of hanging rails up to 300 lb for a 30″ set)
You will receive your mosaic with the upper bracket secured to the top of the mosaic, and the wall bracket attached to the back of the mosaic with 2 screws.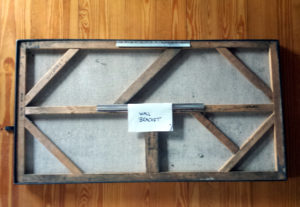 One rail is attached to the back of the mosaic at its top.
The other rail is to be attached to the wall.
Hanging rail installation
Leave the top hanging rail secured to the mosaic frame.
You will need to remove the wall rail from the back of the mosaic, (labeled "Wall bracket" in the above picture), secure proper screws and anchors to install it, and follow the instructions of this installation video by the manufacturer.
ITV anchors used in this video are excellent for sheetrock walls, if your walls are differently build, here is an excellent article covering different types of wall anchors to help you chose the right anchor,
Voila !