The recurrence of decorative patterns through time is a phenomenon akin to the recurrence of themes in all Mythologies and dreams.
21st century present bags, Dothan, Alabama, USA.
Just back from a wonderful trip to study Roman mosaics around Seville in Spain. I found 2 small present paper bags on my desk…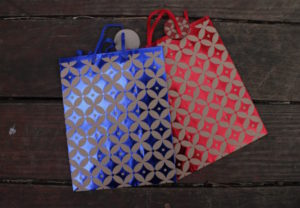 I had purchased them to bring them with me to France and had forgotten them – with a few other things – before I left.
And suddenly it occurs to me !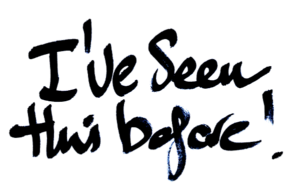 I have seen very similar patterns used in the mosaics I visited in Andalusia…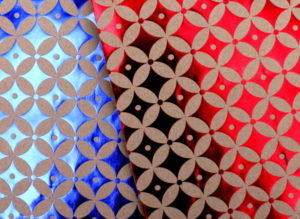 This pattern is described by Spanish Archaeologist as Flores Cuadrifolia – 4 Petals Flowers ( I feel Spanish sounds sexier than English by the way… How about you ?)
Casa del Mitra, Fuente de las Piedras, Cabra (Córdoba)
This mosaic paved the famous House of Mithra – Casa del Mitra –  located at Fuente de las Piedras, Cabra (Córdoba). It is dated late 3rd century , 4th century AD and it was excavated in 1972. The decorative pattern of the main panel "Cuadrifolios" – four petaled flowers – is made of black, white, sienna and red tesserae. This piece is presently displayed at the Archeological Museum of the town of Cabra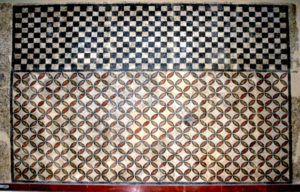 Villa Romana "El Tesorillo" – Cortijo de tiena la Alta, Moclin, Granada, Spain
This one, in excellent state of preservation, was excavated in 1997 from a Villa in the modern town of Moclín. Dated, from the 2nd century AD, its decorative patterns  – Four petaled flowers decorated with bicolor squares in between –  is made of small black and white tesserae – 1cm – 3/8". This mosaic can be seen today at the Comarcal center of interpretation of the town of Moclín.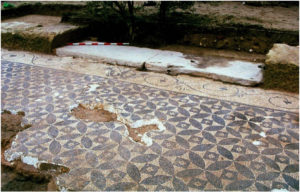 And so that's it for today, I love this kind of things that beyond time connects us to our ancestors, and I wanted to share it with you.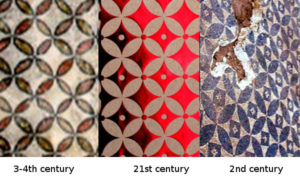 I am presently working on building a library of Roman mosaic borders for use in Modern Mosaics. It will take me a while before I actually publish a full book, but I will share my progress with you. Stay in touch, I welcome your comments and suggestions !