MOSAIC ART SUPPLY How to Mosaic Blog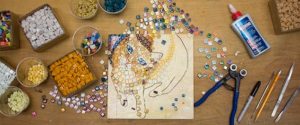 In his mosaic blog Joe Moorman writes about techniques and design of mosaic. Joe is the owner of Mosaic Art Supply, a very dynamic company with a fantastic line of mosaic products from all over the world. Based on his personal experience and many connections with numerous mosaic artists, his very diverse posts are extremely well documented.
HELEN MILES Mosaic Blog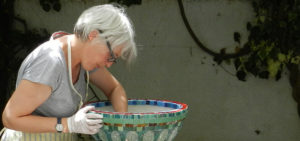 Helen Miles trained in Greece with master craftsmen who taught using traditional methods. She later became interested in Roman mosaics. She now makes gorgeous contemporary mosaics inspired by ancient designs, and lots of other things. You will find in her gorgeously illustrated blog over 100 articles covering a broad range of mosaic subjects from Roman sites, to mosaic inspiration, tutorials, projects and contemporary work. Helen works and writes from Edinburgh (formerly Athens) and shares her vast experience in her blog.
MUSED MOSAIK Mosaic Blog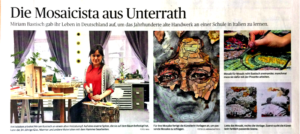 In 2013, Miriam quit her job in the online sector and moved from Germany to  Spilimbergo (Northern Italy). During her intensive training at the Scuola Mosaicisti del Friuli she learned the mosaic craft from the bottom up. Now back in Germany Miriam passes on her knowledge through her blog and mosaic workshops.
MOSAIC ART NOW Mosaic Blog

Mosaic Art Now celebrates contemporary mosaics by bringing the art form's most accomplished practitioners and most innovative thinking to this blog. Artists, curators, designers, architects, collectors and educators are invited to explore, engage and enjoy. In this blog you will meet people who are making and thinking about mosaic in modern and innovative ways. You will also meet the mosaicists of the past whose techniques are the cornerstones for today's dynamic explorations of the medium.
KATE RATTRAY'S Mosaic Blog

Kate Rattray is a self taught mosaic artist living and working in Somerset, UK. She developed her unique skills and style through experimentation, persistence and obsession. She is inspired by the strength, structure and colours of nature, especially skies, weather, trees and birds.  Many of her mosaics are stories related to ancient myths, seeing the world as a primitive and magical place. She shares her obsessions with us in her amazing blog.