A Minaudiere is a women's fashion accessory, generally considered a jewelry piece, wearable art for evening use. It is used as a fashion statement rather than for its functionality. Typically minaudieres are paired with formal wear for events such as weddings, cocktail parties and red carpet events.
I created this Flying Pig minaudiere for a good friend and collector of mine, a lady of character and taste !  It includes 2 glass mosaic panels representing a happy flying pig in the front and my friend's initials on its back.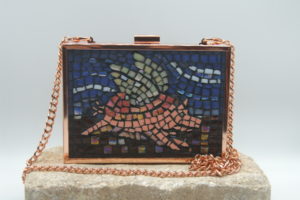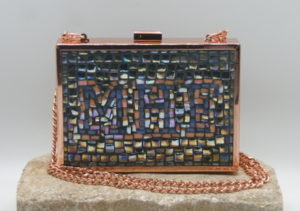 Its frame and shoulder chain are rose gold metal, its lining vegan leather and satin.
Dimensions are 110 x 160 mm (4 3/8 x 6 1/8″)
Each model is unique
Although this one is sold, I am presently designing and making more minaudieres. It takes quite some time to realize the mosaic panels, mount them in their frames and assemble the linings, and of course I want to be sure everything is impeccably done.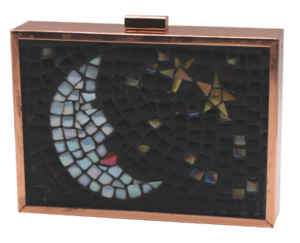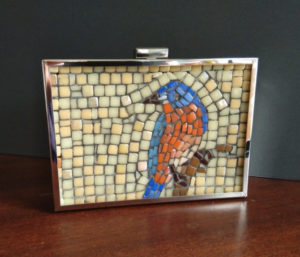 Please contact me about what will come next or if you would like to commission a specific piece.