The fifth of a series.
Green and Sepia Asian face is the fifth of a series of mosaic portraits of a same intriguing Asian face. It is realized in an array of sepia tones regular and iridescent 8 mm glass tiles, with a border of copper and green 12 mm glass tiles.
The original Asian Face mosaic portrait dates from 2015 when I was experimenting with Opus Pixellatum. This first Asian Face was a grayscale one, encased in a rich golden travertine slab.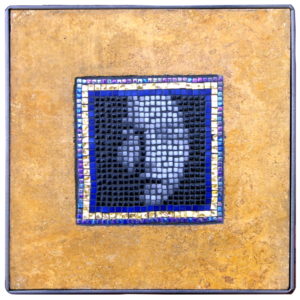 A series of portrait
Because I liked the mystery behind this face I decided in the fall of 2017 to begin a series of variations on the same theme.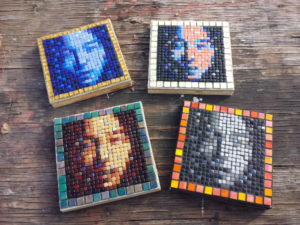 Those initial four pieces are strictly realized in Opus Pixellatum.
In 2018 I have built several other pieces using both Opus Pixellatum and Opus Tessellatum techniques